First Business Forum Lisbon attracts over 150 delegates from across the Portuguese financial sector to discuss innovation, compliance and the future of the industry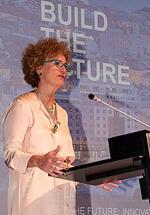 The first SWIFT Business Forum Lisbon took place at the Pavilhão do Conhecimento on 20 October 2016 and brought together over 150 members of the Portuguese financial community. Under the theme "Build the future: Innovation, compliance and the transformation of banking," the programme for the event focused on the disruption and rejuvenation of correspondent banking, financial crime compliance, the rise of real-time payments and the post-T2S securities landscape.
Gema Montoya, Head of SWIFT Iberia and Fernando Rodrigues, SWIFT User Group Chairperson for Portugal welcomed the delegates and stressed the importance of the event for both SWIFT and the Portuguese financial community.