NSD's customers will benefit from increased speed, transparency and traceability of cross-border payments, and SWIFT's premium support
National Settlement Depository (NSD), Russia's central securities depository  (CSD) has become the first CSD to sign up for SWIFT's gpi service – a rapid cross-border payments service that includes real-time payments tracking and transparency on transaction fees and foreign exchange rates.
The widespread adoption of SWIFT gpi has been driven by demand for a faster, more transparent cross-border payments service. Today 40% of SWIFT gpi payments are credited to end-beneficiaries within five minutes. Half are credited within 30 minutes; three quarters within six hours; and almost 100% within 24 hours.The service also enables end-clients to track the status of their payments from end-to-end , and provides an unprecedented level of visibility into each payment – including information about each participant in the payment chain and any fees that have been deducted.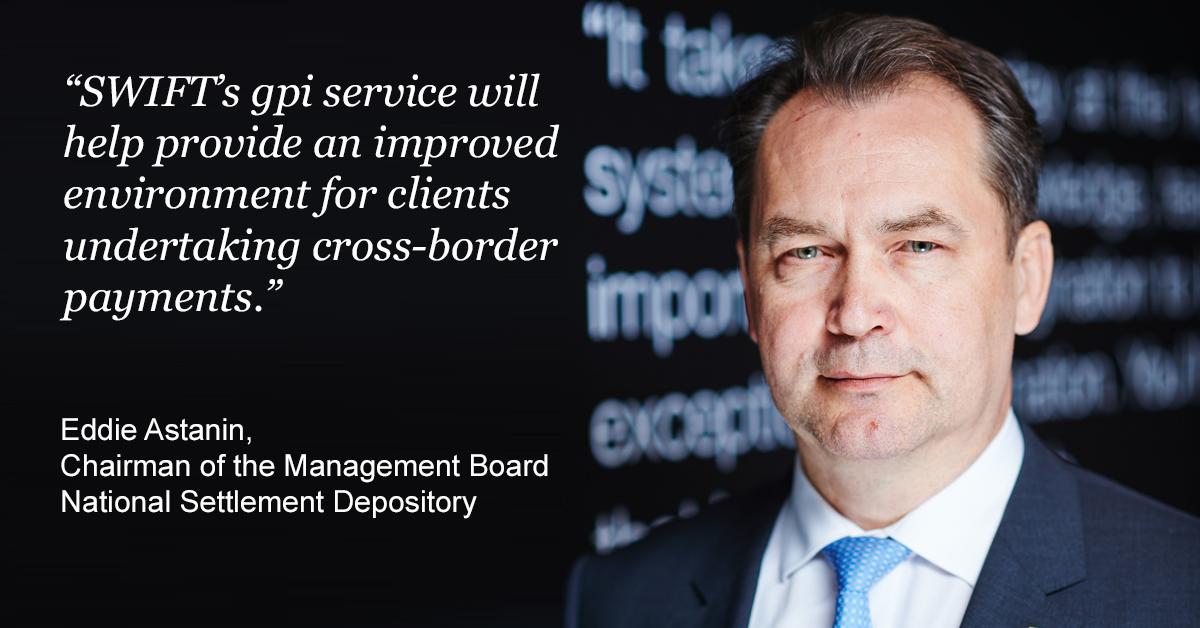 "NSD takes a proactive approach to the implementation of innovative solutions which create new value for our clients. That is why we think that SWIFT's gpi service will help provide an improved environment for clients undertaking cross-border payments. We also consider the gpi technology as a promising solution for transactions involving securities," said Eddie Astanin, Chairman of the Management Board, NSD.
Alain Raes, Chief Executive, EMEA and Asia Pacific, SWIFT said "I am delighted that NSD has signed up for gpi and will be able extend the benefits to its customers. SWIFT gpi tackles the frictions, costs and delays associated with cross-border payments. By adopting this new standard, NSD will be able to offer its customers a far more efficient cross border payments service. We look forward to seeing other CSDs around the world follow suit."
In addition, NSD has subscribed to SWIFT's Premium support offering. This dedicated service offers customers proactive round-the-clock assistance and maintenance.
"To develop services for our clients, we have to improve the quality of NSD's operational and technological interactions with SWIFT, a global provider. Thus, our connection to the new direct support service is a logical and a timely step. Access to this service will allow NSD to offer effective and high quality services to clients," added Mr. Astanin.