On 27 March 2018, 110 participants representatives from Italian banks, corporates, Banca d'Italia,  EBA Clearing and SWIFT gathered in Milan to discuss how SWIFT gpi and instant payments are transforming the customer experience and what opportunities these developments will offer to the financial industry. 
The event, organized by SWIFT at Palazzo delle Stelline in Milan, was an opportunity for attendees to hear from SWIFT, Unicredit, Intesa Sanpaolo, Banca d'Italia and EBA Clearing about the challenges posed by the evolving payments landscape and to share information on solutions that are being built to support financial institutions. Opening the first part of the event, Erika Toso, Head of South East Europe, SWIFT, welcomed the participants and outlined the key topics on the agenda for the day. 
Alongside Isabelle Olivier, Head of Securities & Payments Initiatives, EMEA, SWIFT, Toso outlined the four most relevant trends that are transforming the payments landscape in Italy and beyond, such as new consumer behaviors and needs, regulatory pressure, industry trends and changes in technology. 
The first macro trend deals with changes in consumer behaviour, which lead to demands for 24/7 availability, the instant delivery of financial services, and highly customised and integrated services that can connect individuals to people and businesses on a daily basis.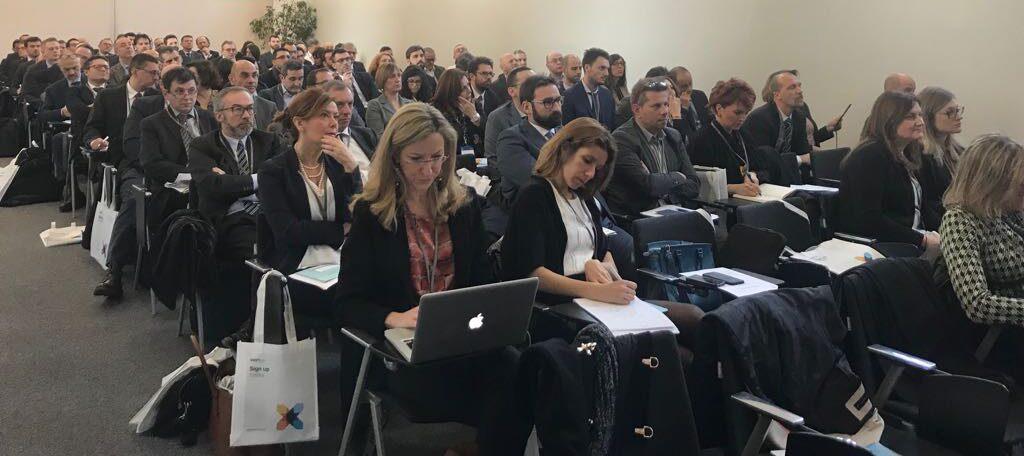 Consumers are looking for contactless payments, that are faster and more transparent, whilst remaining highly secure. 
Regulatory pressure is another trend that is always on the increase. Olivier focused on compliance and regulations that aim at reducing risks in the market and at harmonizing the payments landscape in the EU, such as SEPA. Regulators are looking for innovation and want to enable new solutions that cater for evolving customer  needs, while also ensuring a good deal of protection (as is the case with PSD2). 
The third important trend is represented by new technologies and innovation, an area in which most banks are investing heavily. The use of artificial intelligence also plays an increasingly important role in assuring greater interaction with clients, as well as helping to comply with security and anti-fraud measures. Artificial intelligence represents a strategic tool for assessing data, and distributed ledger technology (DLT) is perceived as a technology that still has to be further developed in the payments area, or indeed in any context that involves thousands of distinct players and high transaction volumes. Further insights on this can be found in the paper that sets out the final results from SWIFT's DLT proof of concept for Nostro reconciliation, one of the largest and most ambitious proofs of concept run with the emergent technology. 
Another driving force behind changes in the European payments space, said Olivier,  is the Eurosystem's Vision 2020, which foresees the technical consolidation of the TARGET2 and TARGET2-Securities platforms, the creation of TIPS as a pan-European solution for instant payments settlement and the harmonisation of collateral management services with the Eurosystem Collateral Management System. 
The first part of the event ended with the conclusion that the financial industry faces many challenges and that solutions need to be found and implemented in a comprehensive manner, as opposed to a siloed one. Costs need to be contained, compliance with regulation is an imperative and banks have to become more efficient at how they use the extensive amounts of data that they have. 
SWIFT gpi – transforming cross-border payments
The next session on the agenda was opened by Riccardo Guazzi, Senior Account Director, SWIFT, who went through the most important features of SWIFT gpi, highlighting that it is a service that will keep on evolving and improving. The idea of gpi was developed by SWIFT with a group of banks, including Unicredit and Intesa Sanpaolo, with the aim of improving user experience. 
Gpi enables end beneficiaries to be credited in minutes or even seconds, it allows payments to be tracked from end-to-end, it offers full transparency on exactly what fees will be charged and it ensures that remittance data remains unaltered when payments arrive. 
SWIFT gpi empowers banks to relieve major pain points for corporate treasurers, such as the lack of transparency in cross-border payments. Using the innovative cloud-based gpi Tracker, banks can now track the status of their cross-border payments in real time, as well as review information about each bank in its path and any fees that have been deducted, giving clients an unprecedented level of visibility into each payment. The Tracker is an application also accessible via APIs. Banks are using these APIs to embed the gpi Tracker information into their payments flow applications and front-end platforms, allowing their customers to track gpi payments in real-time.
Launched in 2016 and live since January 2017, more than 160 banks worldwide have now signed up to the service, while 51 of them are already live. To understand how gpi is transforming the cross-border payments landscape, Riccardo Guazzi provided some of the latest data. To date, more than $100 billion are being sent every day using SWIFT gpi and nearly 50% of SWIFT gpi payments are credited to end beneficiaries in less than 30 minutes. Further data confirm the success of gpi, in fact gpi payments are being sent over 350 international country corridors and new ones are opening every day, in addition, more than 50 payment market infrastructures are already exchanging gpi payments, thus enabling domestic exchange and tracking. 
SWIFT is also working on the next phase of gpi that will feature important new services. The first is gpi Extended Tracking that will enable gpi banks to track gpi payments along the full payments chain, even when the banks handling the transaction have not yet adopted gpi; the second new service will be the gpi Cover Payment that will speed up the payment process when there's no direct account relationship between the sender and the receiver of a payment. Lastly, the third innovation will be the gpi Stop and Recall that will allow to stop immediately payment messages in case of fraud or error. 
Unicredit and Intesa Sanpaolo are among the banks that have been gpi members from the outset and both reported their experiences with gpi, outlining why they decided to join the initiative, the main benefits that have been achieved and the road map that will lead to further innovations with gpi. 
Veronica Pichi, Head of Cash Management Italy, Unicredit, commented that the bank decided to adopt gpi mainly because the market is constantly changing and clients are becoming more aware and more demanding. Heavy competition in the cross-border payments market was another reason that led Unicredit to join SWIFT in the gpi initiative. 
Sergio Dalla Riva, Head of Solutions, Global Transaction Banking, Intesa Sanpaolo, reported that gpi impacts the whole sector in a positive way, thanks to its innovative features. The bank decided to adopt gpi for three main reasons: to treat entry barriers as a business opportunity, to deliver on regulatory demands for modernization and increased transparency and lastly, to help the bank to reposition itself in the payments market. Mauro Pernigo, Product Manager, International Cash Management, Intesa Sanpaolo added that Italy was among the "designers" of gpi, in a context where innovation and new technologies are fundamental in order to provide new services. As an example of the successful results delivered by gpi, Pernigo cited a payment from Italy to China that was finalized in just 7 minutes. Next, Pernigo explained how Intesa chose to roll out gpi, starting with Italy and then moving on to implementation in foreign branches, with, for example, Frankfurt going live in May, followed by London and New York. Overall, the implementation process has been very smooth and the bank's global approach towards gpi is working well and delivering the benefits that Intesa was looking for.
Unicredit's representative, Pichi, explained that the bank joined gpi with a global approach, starting in Italy and later rolled out in Germany and Austria, with the CEE countries up next. 
One year after the launch of gpi, the two banks reported that their customers' reactions to gpi have been extremely positive. Unicredit reported that speed and real-time information are the most appreciated features so far. Intesa Sanpaolo commented that client feedback and numbers confirm the success of the project. For Intesa Sanpaolo's payments into and out of Italy, more than 75% of payments are credited in less than 30 minutes. 
Instant payments
The last part of the agenda was dedicated to instant payments, which is expected to become the new normal in more and more geographies. In the EU, for example, the European Central Bank (ECB) mandated the European Payments Council (EPC) to develop the SEPA Instant Credit Transfer (SCT Inst) scheme, a scheme for pan-European instant payments that banks are encouraged to adopt, together with their preferred Clearing & Settlement Mechanism (CSM) provider.  The SCT Inst scheme requires that the payment is completed in 10 seconds, that the service is available non-stop, 24/7, all year round 365/365 and in all of the countries that are included in SEPA. 
The implementation of instant payments represents a challenge for banks, as it forces them to review their IT systems and operational procedures, but also because of a difficult business case. 
Having successfully delivered an instant payments solution for Australia, which is now live and on which volumes are increasing every day, SWIFT decided to further expand its instant payments service offering, starting in Europe. SWIFTNet Instant is the future-proof new messaging service that will be launched in November 2018 and will enable clients to use TIPS and RT1, with additional Clearing and Settlement Mechanisms (CSMs) to be added in the future.
The SWIFT solution for Instant Payments will pave the way for the future implementation of ESMIG (The Eurosystem Single Market Infrastructure Gateway), as it comes along with the new Gateway (Alliance Gateway Instant), the first building block for the T2/T2S consolidation plans of the Eurosystem.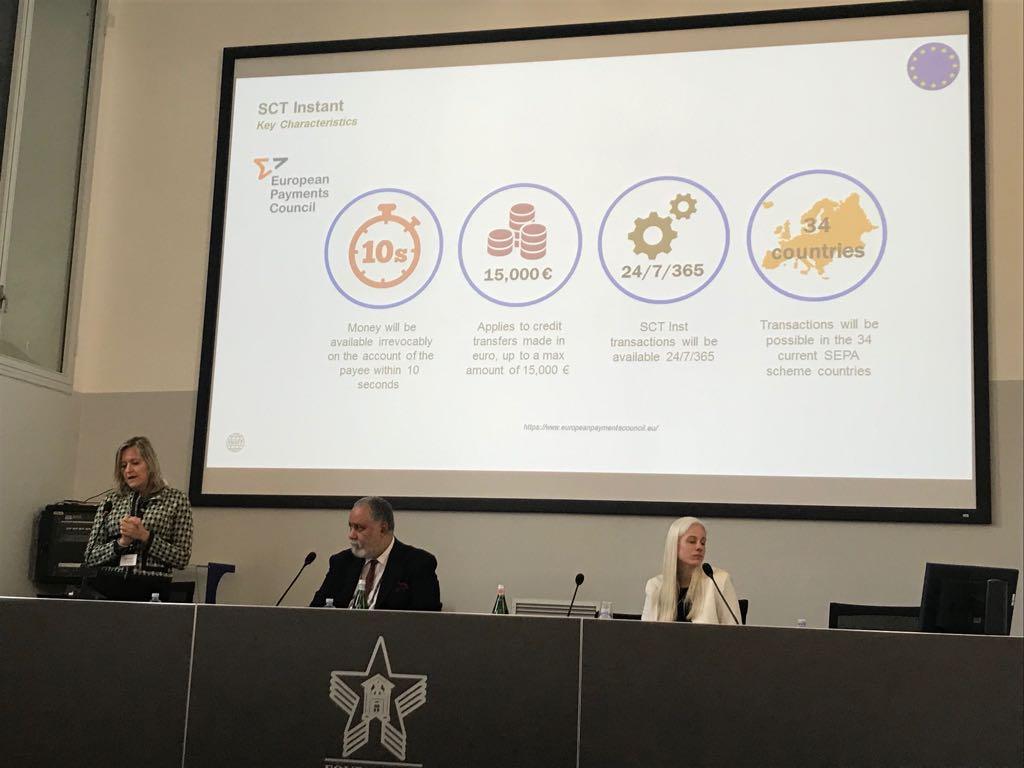 Lorenzo Giammò, Head of Eurosystem Market Infrastructures Division and Responsible for TIPS at Banca d'Italia, provided detailed information on TIPS (TARGET Instant Payment Settlement), the Eurosystem's instant payment settlement solution. TIPS will be launched in November 2018 (with the first tests in August) and it will be available to all operators with the specific aim of guaranteeing reachability in Europe. Banca d'Italia worked to develop a system that could also keep costs low and that could also satisfy different requirements, such as fastness and full time availability. It has been confirmed that every transaction settled on TIPS will cost no more than €0.20 cents in the first 2 years of operations. The project is almost ready and TIPS will respect the 10-seconds rule requested by ECB and is expected to handle 46 million payments every day, which means 500 payments every second.
Katja Heyder, Head of Marketing and users relations, EBA Clearing reported on EBA Clearings's RT1, that went live in November 2017 and offers Instant Payments on a pan-European level. The service started off with 17 banks from 8 different countries and, like the other initiatives, RT1 is completely compliant with the SCT Inst rules. This platform currently handles 12.000 transactions every day with values expected to increase in the future and over 95% of the transactions being processed in less than three seconds. 
Closing remarks at the end of the event were made by Toso, who highlighted that innovation is certainly one of the key forces that shape the cross-border and instant payments landscapes, but that innovation doesn't always mean "revolution". Indeed, innovation can also take place using tools that already exist and SWIFT gpi, for example, runs on the traditional SWIFT network. She closed the day saying that instant payments are developing in a context that keeps on evolving and where instant is set to become the "new normal" everywhere.