The rapidly evolving EU payments landscape at the heart of the event
On 7 March, bank representatives from across Germany gathered in Frankfurt to discuss how SWIFT gpi and instant payments are set to transform the customer experience and become the new normal for the payments industry.
The rapidly evolving EU payments landscape was at the heart of the SWIFT event at which the German banking community discussed the changing landscape and shared information on the solutions that SWIFT has designed to help financial institutions tackle the challenges that they face. Michael Formann, Head of SWIFT Germany & Austria, welcomed the nearly 100 participants in attendance and posed a key question about the two major topics on the agenda, SWIFT gpi and instant payments:   "How does it all fit together?" He promised that answers to this pivotal question would be found in the presentations and discussions over the course of the day. The morning session was dedicated to instant payments, whilst the afternoon focused on SWIFT gpi, the new standard for cross-border payments worldwide.  Formann opened the event by presenting an overview and update on SWIFT's Customer Security Programme (CSP) and its supporting services, emphasizing the importance of the programme in the context of new payments solutions and how, for example,  CSP self-attestations can be used for counterparty risk assessment. In the second part of his introduction, he outlined the unprecedented levels of change and disruption that are taking place in the payments industry, where they are having an impact on internal, domestic and regional systems:  The correspondent banking model is under pressure from customers and regulators, retail customers are pushing for better payments services and digital innovators are offering new disruptive solutions. "Transaction banking had to be reinvented", Formann said, referring to the development of gpi.
Instant payments coming faster than expected
By pointing out the multitude of instant payment solutions developed by Clearing and Settlement Mechanisms (CSMs)  worldwide, Thomas Ramadan, Securities Initiatives & Payment MIs, EMEA, SWIFT, demonstrated how "faster payments are coming faster than expected". The challenges for banks adopting instant payments are that they come with complex technical and operational processes and include set-up changes that come at a high cost. In implementing their instant payments set up, banks also need to make sure that they also comply with anti-money laundering (AML) and sanctions screening obligations.
In Europe, various national CSMs have decided to implement the European Payments Council's SEPA Credit Transfer Instant scheme. In addition, EBA Clearings's RT1, which offers Instant Payments on a pan-European level, went live in November 2017 and the Eurosystem's  TARGET Instant Payment Settlement (TIPS), which will also be pan-European, is planned to go live in  November 2018. TIPS is part of the Eurosystem's Vision 2020 and the first step in the implementation of its Single market Infrastructure Gateway (ESMIG) that will be extended to T2 in 2021 and T2S one year after that. All future Eurosystem services will then also be made available through ESMIG.
Moving on to share detailed information about SWIFT's plans for Instant Payments, Ramadan introduced the benefits of its proposed solution which proved to be instrumental in its selection to build the infrastructure of Australia's new payments platform (NPP), which went live early in 2018. While meeting EU instant payments requirements, SWIFT's instant payments solution is designed to work anywhere in Europe and around the world, enabling its customers to connect seamlessly to multiple CSMs. Customers will be able to re-use their SWIFT assets as much as possible and connect to multiple services (CSM plus value-added services) through one single connection. Moreover, the proposed solution is future proof as it support s future footprint evolution, infrastructure changes, industry initiatives, and takes regulation into account. Furthermore, SWIFT is able to reduce the cost of change for customers and supports them in rapidly introducing next-generation payment services.
The new real-time Alliance Gateway Instant (AGI) will be a single window for instant payments, supporting different types of flows. It will also be a starting point for future considerations on SWIFT's technology evolution, e.g. to create a new generic messaging capability allowing the support of other types of business (APIs in the context of open-banking, DLT, etc.). Over time, AGI shall become a single platform via which SWIFT customers will access the Eurosystem Single Market Infrastructure Gateway (ESMIG).
Customers can also opt to use SWIFT's Payment Orchestration Platform, Alliance Messaging Hub Instant, which is a real-time, 24x7 cost-effective solution that can be deployed alongside other 3rd party payment applications and support any CSM format, translating to and from formats required by customer applications. It also embeds pre-configured features for different instant payments communities (EU, US, HK, etc.).
Ramadan closed his presentation with a view on the operational differences between various CSM platforms and some advice on the adoption and implementation of instant payments, including services and pricing principles.
Paradigm shift in correspondent banking
The afternoon session was opened by Marianna Janssen, Markets & Initiatives, EMEA, SWIFT who started her presentation by outlining the deficiencies in the traditional correspondent banking model and the evolutions in the payments landscape, including instant payments, that triggered the development of SWIFT gpi. Janssen explained that SWIFT gpi, the new standard for cross-border payments, was built on the identification of the four main needs of corporate customers from around the world: speed, transparency, tracking and richer remittance information. Consequently, the objectives for SWIFT gpi from the outset have been to deliver same day use of funds, transparency of fees, end-to-end payments tracking, and the unaltered transfer of remittance information.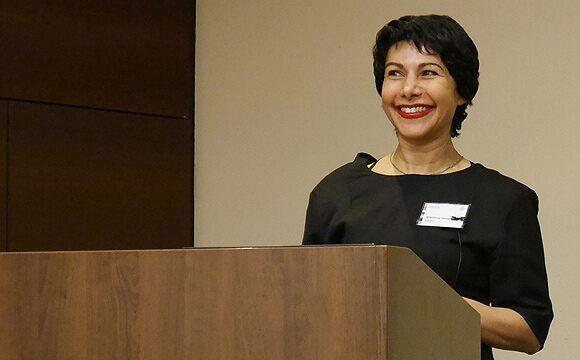 More than 153 transaction banks have signed up to SWIFT gpi, which has been live since January 2017. More than 42 banks are already live on the service and using SWIFT gpi to exchange over 150,000 payments per day via more than 220 country corridors. Over 100 billion US Dollars are sent every day using SWIFT gpi, enabling payments to be credited to end beneficiaries within minutes, many within seconds. Nearly 50% of SWIFT gpi payments are credited in less than 30 minutes. To date, more than 13 million gpi payments have been sent over SWIFT, providing a better experience to corporate treasurers. More than 50 payment market infrastructures are already exchanging gpi payments, enabling domestic exchange and tracking.
Using the innovative cloud-based gpi Tracker, banks can now track the status of their cross-border payments in real time and review information about each bank on its way and any fees that have been deducted, giving clients an unprecedented visibility into each payment. The gpi Tracker also facilitates more accurate reconciliation of payments and invoices, optimizes liquidity with improved cash forecasts and reduces exposure to FX risks with same-day processing of funds in the beneficiaries' time zones. The Tracker is also accessible via APIs used by banks to embed the gpi Tracker information into their payments flow applications and front-end platforms, allowing customers to track gpi payments in real-time.
Currently SWIFT is working on the next phase of gpi, which includes additional digital services to further transform the cross-border payment experience, such as a stop and recall service to instantly stop a payment in case of fraud or error. In 2018, extended tracking will allow to review the gpi payment status along the full message chain on SWIFT, irrespective of whether banks handling the transaction are gpi members or not. Janssen pointed out that the Standards Release 2018 mandates all SWIFT Users, including non-gpi members, to add and pass on a UETR (Unique End to End Transaction Reference) in all MT messages. Following this presentation, numerous questions from the audience were addressed to the SWIFT team, making the session highly interactive.
Deutsche Bank shares a frontrunner's view on the gpi experience
In the following session, the audience was able to hear about the experience of a live and very active gpi bank.  Marc Recker of Deutsche Bank's Global Transaction Banking reported on the implementation of gpi at Deutsche Bank, which went live on the service in early 2017, making it the first German institution to be able to offer its customers gpi payments. In consultation with its customers, Deutsche Bank concluded that gpi with its high operational efficiency as a cloud solution, was the optimal service for its cross-border payments. Recker confirmed that the corporate customer experience has been enhanced significantly by the new gpi Tracker as well as by the transparency of costs and credit confirmation.
The new standard in cross-border payments will be further improved in 2018 through the next step of digital transformation. SWIFT's extended gpi service will then include the possibility to stop & recall payments in case of suspect and the gpi cover service tracking the cover flows related to underlying gpi transactions. Recker also referred to the Standards Release 2018, which requires the inclusion of a unique end-to-end transaction reference (UETR) included in all payment instructions carried on SWIFT from November 2018 onwards. This will enable gpi customers to track all payment instructions between all 11,000 customers on SWIFT at all times and make gpi the new norm in correspondent banking.
Recker's hands-on description of the bank's route to SWIFT gpi implementation and the lessons learned in that process, were particularly interesting to the attendees. The process at Deutsche Bank started with collaborative workshops and involved an early participation of internal stakeholders, an important step prior to building the business case. After defining and refining the implementation strategy, internal systems and staff had to be prepared and new payments processes explained to back and front office staff to get ready for the testing phase. The last steps were the go-live and go-to-market. According to Recker, revenues have not increased as a result of the new service given that clients don't seem to be ready to pay more for faster payments, but only for additional services such as tracking. He referred to feedback from key clients who confirmed their high satisfaction with the service and went on to respond to many questions from the audience.
How does it all fit together?
The final topic on the agenda was a panel discussion designed to look at how SWIFT gpi and Instant Payments fit together, what synergies they have and how things may evolve in a not too distant future. At the beginning of the session, Saskia Devolder, Head of Western and Central Europe, SWIFT asked the audience to give their answers to six questions, using a voting tool. The outcome of the poll was discussed on the expert panel by Ralf Schmidt, Deutsche Bundesbank, Ingrid Weisskopf, Commerzbank and SWIFT's Head of Market Initiatives, EMEA, Christian Kothe.
Surprisingly, the first question "Where do you see the instant payments adoption in Germany in five years?" was answered with "Instant payments are the new normal" by 80% of the attendees – something the experts were reluctant to agree with. They unanimously stated that this would be by far too ambitious for Germany. Their expectation was that no more than 10% of all payments will be instant payments as the current methods still address customer needs best, while growth rates in Asia-Pacific are much higher than in Europe. To the question "What are the key values of gpi in your view?" a majority of 48% replied "The benchmark for speed and transparency" which was mainly confirmed by the panel. 
Another majority of 59% of attendees answered "Once proven domestically, customers will demand for real-time globally" when asked "Will there be a move to real-time processing end-to-end globally?" This was warily confirmed by the experts, who said that they agree, provided that technology develops accordingly and harmonization is achieved by the creation of global standards. This answer excluded any considerations about the challenges of DLT development. Further questions & answers finally proved that gpi and instant payments are key elements in the journey towards a far more harmonized global banking model.
The conference was closed by Michael Formann, who thanked the audience for their high levels of engagement, interest and open dialogue throughout the event.