What you need to know about the SWIFT Corporate-to-Bank initiative, which has received strong support in the Philippines and Indonesia
Most companies work with more than one bank for cash, trade and treasury functions. Connecting with multiple banks efficiently and securely requires resources, time and cost. The SWIFT Corporate-to-Bank (C2B) initiative brings together a group of banks and corporates to consult, collaborate and agree on common implementation rulebooks for relevant ISO 20022 and other financial messages.
The initiative, which was first launched in the Philippines in 2016 to help Filipino corporates optimise and improve financial operations through standardisation and market practices for domestic financial transactions, has now expanded to Indonesia following strong support from the Filipino banking community.
Here are some things to understand about the initiative.
Towards common standardsLed by SWIFT, the initiative's goal is to simplify implementation for corporate users and, thereby, promote wider acceptance of ISO 20022 as the common standard used between corporates and banks. Other elements of the initiative include corporates use of the MT940 for bank statements, pain.001 and pain.002 for payments, MT300 for FX confirmations and MT320 for Money Market confirmations.Realizing strategic financial objectivesThe C2B initiative helps corporates optimise their finance operations in these areas:- Consolidated cash visibility- Auto-reconciliation of bank statements- Standardised payment formats supporting ERP systems- Digital confirmation of treasury transactions (FX and Money markets)One single platformThe C2B initiative looks at helping corporates streamline and automate their treasury, payment and reconciliation processes.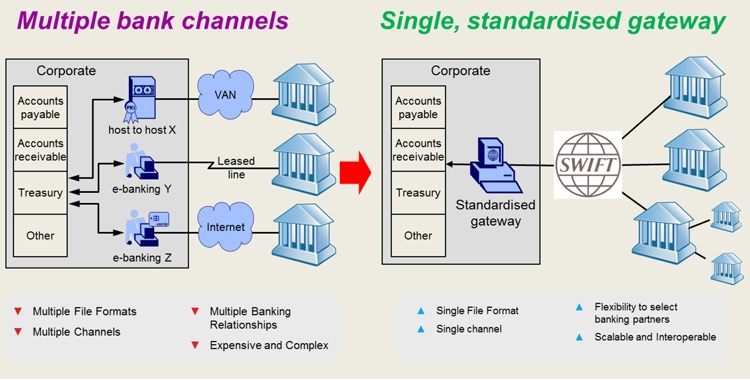 Community RoleTogether with SWIFT, over 25 banks and 10 corporates have come together to identify and overcome current challenges facing the banking industry through the C2B initiative in Philippines. In Indonesia, about 100 bank and corporates attendees participated in the launch workshop for the Indonesian programme.Achieving ASEAN financial integrationThe C2B initiative has the strategic goal of supporting ASEAN regional financial integration by aligning domestic payment infrastructure modernisation efforts with AEC 2025 goals and global trends like ISO 20022 adoption and the move towards real time payments.
It is encouraging to see competing banks and corporates come together as a team to exchange ideas and industry best practices, as they work towards defining a set of guidelines that the Philippine financial community will benefit from. It is our hope that this level of cooperation can be replicated in other SWIFT initiatives as well for greater financial integration.