Innovation in Payments, Technology and Cyber Risk Management were all key topics at the SWIFT Business Forum New York 2018
On 12 September, over 700 financial services professionals registered for the SWIFT Business Forum New York 2018 to discuss the opportunities that innovation and collaboration can provide for the industry.
Karen Webster, CEO and Founder of PYMNTS.com, and host of the event, set the tone for the day in her introduction. Webster noted that the forum marked an important opportunity for stakeholders in the global payments market to enhance B2B transactions to be frictionless, transparent and efficient.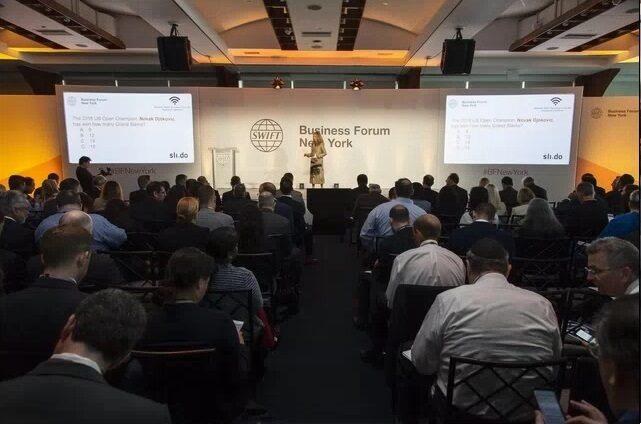 Rana Foroohar, Global Business Columnist at The Financial Times and Global Economic Analyst at CNN, delved into the world of big tech in her keynote presentation. Foroohar noted that there is nothing to stop a company like Google or Amazon from moving into the financial industry in the US. The commonality is that a technology platform player can sit in the middle of a commerce market and take a percentage of every transaction. US banks also sit on a tremendous amount of data that is not currently being monetised, so opportunity exists for financial institutions.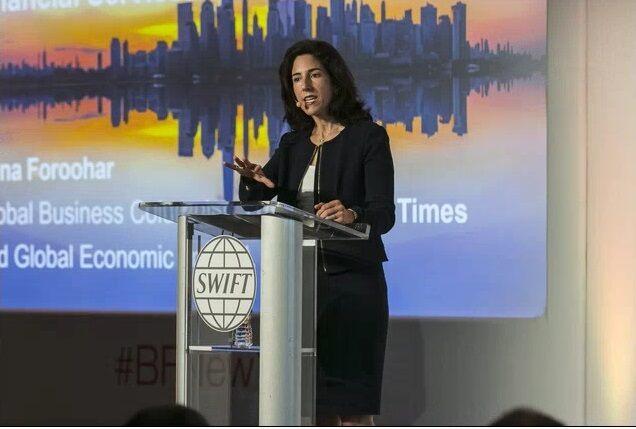 In a later panel discussion, Manish Kohli, Managing Director, Global Head of Institutional Payments and Receivables, Treasury and Trade Solutions with Citi agreed that there needs to be the willingness for the industry to solve its problems. He commented that SWIFT gpi is a great example of this, as it brings transparency to international payments and also improves the speed and cost of transactions. 
Providing a corporate perspective, Kristen Michaud, GE's Managing Director of Treasury Operations, agreed that SWIFT gpi solves a number of the issues that have existed in the international payments space, and that collaboration between banks and corporates is essential to properly addressing the issues faced by both.
Maintaining Trust and Tackling Cyber
Alongside payments innovation, the cyber threat to financial services was another key topic under discussion throughout the day. In the domestic payments landscape panel, Stephanie Wolf, Head of Global Financial Institutions and Global Government Banking Sales, Global Transaction Services at Bank of America Merrill Lynch, commented that fraud is a daily concern for customers, no matter which payment rail is being used. She said that the industry has to work together to determine how to resolve the problems of payments routed in error.
In the Booz Allen Hamilton sponsored 'lunch and learn' session delegates walked through some of the main threats that exist and explored what can be done to best manage and mitigate these risks. Fusing cyber operations with fraud management can reduce surprises, bring faster actions and improve efficiencies.
The Domestic View 
The faster payments trend dominated the panel discussion on US domestic payments later in the day. Session moderator Ryan Masters, Executive Director of Strategic Relationships, North America at SWIFT, asked Russ Waterhouse, Executive Vice President, Product Development and Strategy for TCH, why the take up of the new real-time payments (RTP) system has proved challenging thus far. Waterhouse made the point that, unlike some faster payments projects in other countries, there is not a government mandate for the project in the US, and as such there is no regulated end date to motivate banks to sign up. However, Waterhouse added that momentum is starting to build.
Emma Loftus, Managing Director, Global Head of Payments and Receivables, Treasury Services at J.P. Morgan commented that her institution is all in on real-time payments, and used the analogy of the first telephone to highlight one of the early challenges for the system; you need others to sign up in order to enjoy the benefits.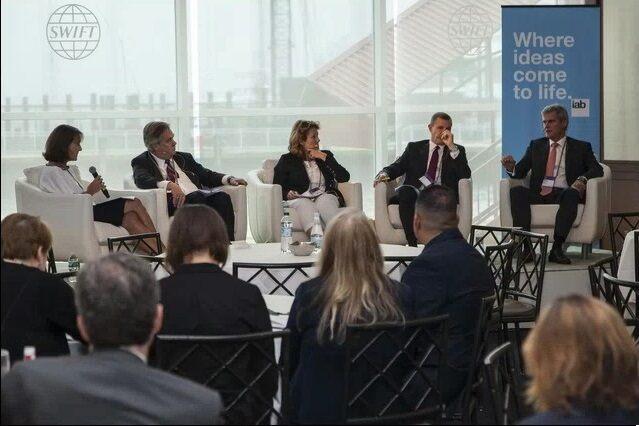 Masters concluded the conversation by asking the panellists for their predictions for US payments over the next three years. Waterhouse said the 2020 ubiquity goal for RTP is his main focus. Wolf thought that there has to be fewer rails in time, which would create simplicity and differentiation between the available rails. For Loftus, 2019 and 2020 will be big years for corporate adoption of digital payments. She added that she prefers to talk about the client experience rather than the rail that the transaction travels on. 
The Case for Calm Technology
In the closing plenary, delegates were able to hear technology insights from Amber Case, Cyborg Anthropologist and Harvard Fellow. Case is an advocate of calm technology - technology that does not require all of our attention, just some of it - and then only when necessary. She said that machines should not act like humans, and humans should not act like machines.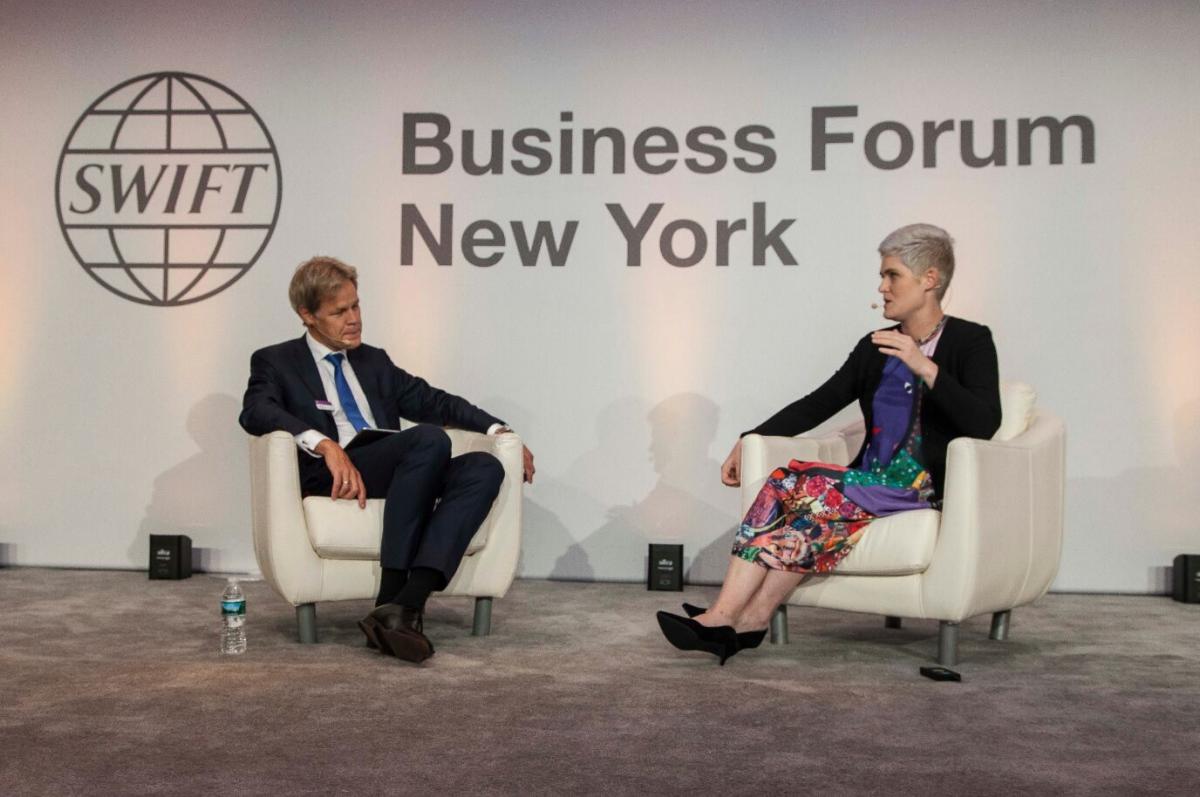 In conversation with Case, SWIFT CEO Gottfried Leibbrandt asked how calm technology can be applied to financial services. Case noted that trading apps on smartphones are one good way, as they are both fun to look at and intuitive. She further commented that a frictionless, text-based banking app with excellent customer service is something to strive for.
Leibbrandt suggested that embedding the payment in the transaction could be seen as a "calm technology", such as with Uber where you just get out of the car. Case agreed with this point and said that transparency and tracking in a transaction is critical. 
As the conversation neared a close, Case recounted how just 11 years ago the idea of mobile banking seemed crazy, which shows how 'normal' changes over time.
What sounds ridiculous can just become the norm so quickly. It's never that the tech isn't ready; it's that humans aren't ready for the technology.
The forum concluded with many delegates expressing their anticipation for this year's Sibos conference, which is taking place in Sydney on 22-25 October. For full coverage of the SWIFT Business Forum New York 2018, visit the Finextra live blog.