SWIFT's LARC 2019 explored opportunities for firms to accelerate digital transformation in Latin America & the Caribbean
The SWIFT Latin American Regional Conference (LARC) attracted nearly 500 delegates to Panama City on 21 and 22 May. Opening the event, Ignacio Blanco, SWIFT's Head of Latin America & the Caribbean, noted that customer demands from financial services have rapidly increased in the digital world, with organisations operating in a world that is hyper-connected. Financial institutions need to evolve from market leaders to digital leaders, he said.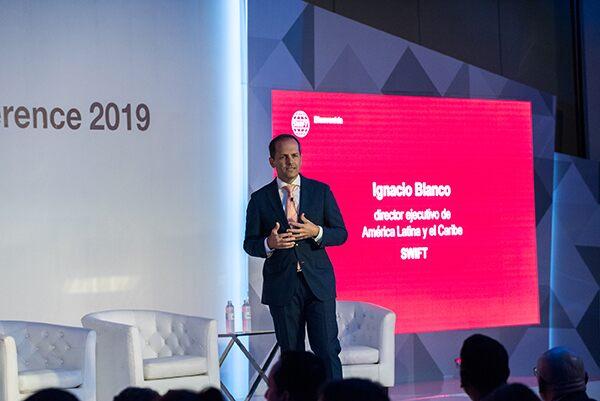 Accelerating digital transformation
Thinking about what it takes to successfully support the acceleration of digital transformation, Christopher Mager, CTP, Managing Director, Digital Office at BNY Mellon Treasury Services said that two years ago his institution had moved to pursue a more centralised strategy by creating an enterprise level digital group, called the 'Digital Council'.
While each business within the group should prioritise its own developments, there are certain functions that every business undertakes. The Digital Council focuses on helping the business structure its data across the enterprise in order to avoid duplicating costs, said Mager.
Further to this, George Doolittle, Executive Vice President and Head of Global Payments Services, Corporate & Investment Banking at Wells Fargo said they realised they had centralised innovation too much, and needed to get the various business lines more involved in the process. The business lines have the customer connection, which is key in developing solutions that actually solve customer needs, he said.
Facing cyber challenges
The cyber threat faced by banks was highlighted by Kartikeya Swami, Associate Partner, McKinsey & Company who commented that around a quarter of all malware attacks in 2018 hit banks and other financial services organisations. Cyber actors will attempt to infiltrate a local system via a phishing attack, a compromised security token or similar, Pat Antonacci, Head of Customer Experience, AM-UK at SWIFT explained.
Julian Dana, Director of Latin America for Mandiant at FireEye emphasized that advanced persistent threats (APTs), which are often government sponsored, are one group of cyber actors that should be given extra attention. APTs have local contacts to support attacks that can help with reverse engineering to generate an insider threat.
Adam Bulava, Executive Director of Attack Simulation with JP Morgan added that the US financial sector has developed cyber response guides across the community to help address cyber threats. The more that banks run through these eventualities, the better they will be able to respond to a real attack.
Skylar Simmons from SWIFT's Red Team carried out a live hack on the second day of LARC. Simmons showed how a methodical approach could allow a hacker to find a bank's IP address relatively easily, see which ports of the bank's IP addresses are open, and target the information they could uncover to quickly gain access to their servers using a variety of tools that are easily available online.
Ensuring compliance
Along with balancing an innovative digital agenda while managing the cyber threats, banks also need to be able to keep up with compliance demands. Speaking to this point, Sandra DePoalo, Managing Director, and Global Head of AML at BNY Mellon said that compliance teams need to engage with the business teams in a bank to understand new clients, before the onboarding process begins. It is important to find out if correspondent banks have similar controls in place, she added. If a bank is making repeated requests for information that go unanswered from its correspondent, red flags can be quickly raised.
Maristella Aldana Sanin, Chief Compliance Officer at Bancolombia agreed with the need for compliance to be close to the business. Compliance programmes need to be reviewed on a regular basis to ensure they share the ethical principles of the organisation, as well as the regulatory rules. In compliance, she added that they are also trying to improve the customer experience by being as agile and efficient as possible, by using new technologies, such as bots to scan for suspicious operations and comparing customers with a pool of peers, for example.
Regional considerations
A poll of delegates showed around 7 in 10 believed that the biggest concern in Latin America today is corruption and its impact on foreign direct investment (FDI).
Claudio Irigoyen, Managing Director, Head of Latin America Economics and Foreign Exchange & Fixed Income Strategy at Bank of America Merrill Lynch commented that this issue has certainly been very important in different national elections in Latin America over the past couple of years.
Humberto López, Director of Strategy and Operations for Latin America with the World Bank observed a split in Latin America, noting how the northern part of the region looks to the US, while the southern part of region looks to China. Observing where opportunities exist in the continent, Irigoyen mentioned Brazil, saying that expectations have adjusted significantly since the most recent presidential election.
Final takeaways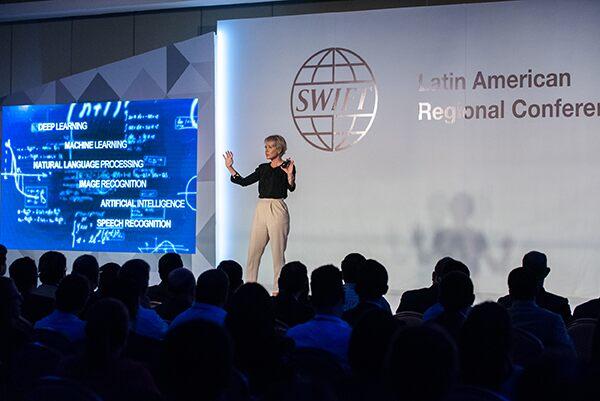 Carme Artigas, an expert in big data and AI, and Founder of Synergic Partners, gave the final keynote presentation on 'Being Human in a Digital World'. Artigas said that rather than thinking of the internet of things, we should think about the internet of beings with a shared reality better than virtual one. People skills will be the most important talent in the new world — transformational leaders who can bring the best out of their people, she argued.
In closing LARC 2019, SWIFT's Ignacio Blanco drew attention to the variety of opportunities for banks to accelerate digital transformation in Latin America and the Caribbean that had been discussed over the two days. He concluded by saying that this transformation requires collaboration, and that it is critical for institutions to foster a culture that supports this.
Check out the Finextra live blog for an in-depth view of Day 1 and Day 2 of the event.