Deutsche Bank's latest report on SWIFT gpi demonstrates the power behind the service
In June 2017, six leading Swiss corporates issued an open letter stating their support for SWIFT gpi and encouraging banks worldwide to adopt the initiative in order to improve cross-border payments. Deutsche Bank is now among the 30+  banks who have gone live with SWIFT gpi comprising the Vision Group; helping to shape the future of the service.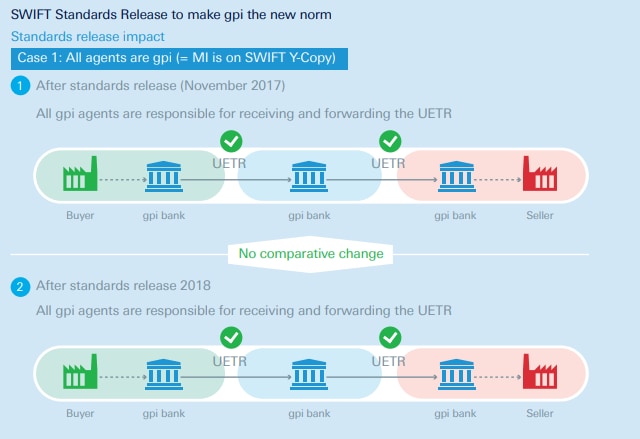 Why gpi – what the Deutsche Bank report highlights
Today, the challenge revolving around cross-border payments is speed. It can take days, sometimes up to a week, for funds to be credited to the beneficiary's account. Corporate treasurers pressure financial institutions to provide faster and more convenient cross-border payments while demanding more granular data and transparency with the respect to their payment credits and deductions, according to Christian Westerhaus, Global Head of Clearing Products, Cash Management, Deutsche Bank.
Banks constantly looking for ways to improve their service to clients, but are faced with margin pressures and increasing competition.
On top of the delays, margin pressures and increased competition, fees are another issue. Banks deduct fees for processing cross-border payments which complicates reconciliation for received and invoiced amounts. The "opaque transaction chain" obscures these fees and the operation takes place with a lack of full end-to-end information.
Each participant is essentially limited to its own data environment which stifles communication across the entire payment chain. Since there is a lack of visibility, this also creates a challenge when dealing with investigations and complaints.
SWIFT's global payments innovation (SWIFT gpi) initiative has the potential to solve all of these challenges.
The cloud solution connects all of these parties in the payment chain to improve the speed, transparency and traceability of payments. SWIFT gpi cuts down the time and costs while still allowing banks to meet their compliance obligations and market, credit and liquidity risk requirements.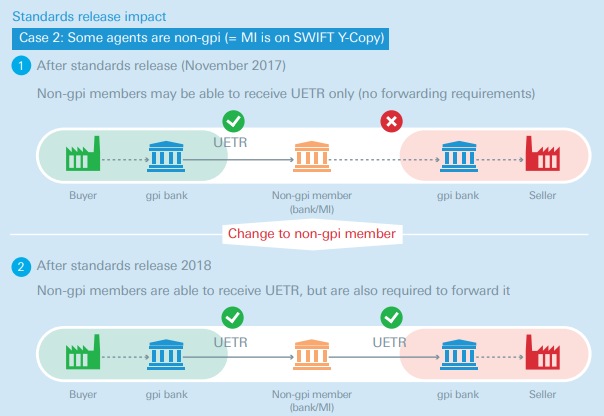 Four major benefits for corporates:
1. Same-day availability of funds, if received before the bank's cut-off time
2. Transparent fees – with regard to both deductions and exchange rates – thanks to all charges being documented in the cloud
3. End-to-end payment tracking and confirmation via the cloud and communication
4. The transmission of full and unaltered remittance information which will ease the reconciliation of payments
For Deutsche Bank to deliver transparency and traceability, SWIFT has introduced the SWIFT gpi Tracker. This is a payment tracker "that acts rather like a shipping tracker, but for payments," said Deutsche Bank. It consists of a cloud-based database giving end-to-end visibility on the payment transaction from start to finish.
SWIFT gpi Tracker uses the unique end-to-end transaction reference (UETR) meaning that each party in the payment chain will be able to confirm the payment's position, and allowing others in the chain to identify the status of the payment in the process.
Complying with privacy around transactions, it will be possible to see where a payment has been held up, for example. "In the name of transparency, and to enhance self-service, Deutsche Bank is making it possible for its financial institutions and corporate clients to access the Tracker themselves, via Deutsche Bank Cash Inquiry."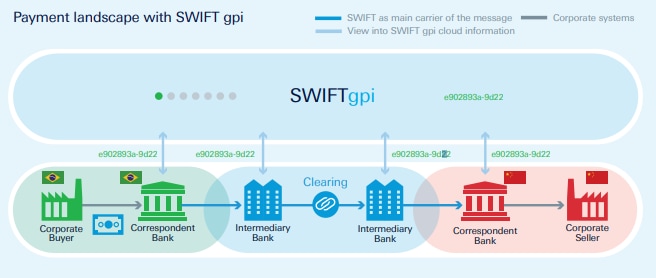 Using SWIFT's secure global platform SWIFT gpi services operate on the basis of multilateral service level agreements (SLAs) between participating banks in an effort for consistency.
The question of transparency is answered with the SWIFT gpi Observer, a central service that allows all gpi banks to measure or benchmark themselves and their peers against the SLA. This will allow gpi banks to efficiently spot areas for improvement with their correspondents, and ultimately ensure best practice in the use of multilateral service level agreements.
This represents a milestone in Correspondent banking, effectively connecting all parties in the payment chain.
According to the white paper, "To enhance efficiency and transparency across the end-to-end payments chain, as well as to avoid fragmentation and implementation costs, Deutsche Bank has worked closely with those infrastructures not operating in a SWIFT environment to establish best practices and to share insights."
In an increasingly competitive marketplace, where digitalisation and disruption are watchwords, SWIFT gpi represents a way for correspondent banks to remain competitive.