The SWIFT for Corporates User Conference, held on 23 - 24 May, gathered together corporate treasurers, SCORE banks and Lite2BA program partners from across EMEA for two days of discussion and debate.
This annual event aims to share best practices and encourage banks and corporates to make the most of SWIFT standards and value add services; with a special focus on the challenges that multi-banked organisations face in their daily international treasury operations.
During the opening plenary, Marc Delbaere, Head of SWIFT for Corporates and Supply Chain markets, pointed out that treasurers continue to be challenged by multi-banking, and highlighted SWIFT's unique and important role at the heart of the industry in "finding common ground and helping both banks and corporates to do more and go further together". 
Through a series of customer case study presentations and panel discussions, we heard how SWIFT for Corporates customers are leveraging the network and value add solutions to meet their business objectives.
BNP Paribas talked about the implementation of MyStandards.  Isabelle Volckaert, Product Manager at BNP Paribas, explained how MyStandards allowed the business to achieve several of its key targets: improving customer experience by speeding up customer on-boarding time, digitising and automating the previously manual and time intensive email-based exchange to reduce internal costs.   Michael Hahn from Daimler also shared his insights on  implementing SWIFTRef to cut down on rejected payment files.
SWIFT gpi was a major talking point for both corporate treasurers and banks.   With the service now live and more than 21 million gpi messages flowing through the system it's clear that the initiative is quickly transforming cross-border payments. During a panel discussion, Sebastian Rojas, Lead of corporate engagement for SWIFT gpi,  Laurent Dall'Aglio from LVMH - Moët Hennessy Louis Vuitton, and Carmela Gomez from BBVA discussed the challenges multi-banked corporates are facing with cross-border payments. Insights were also shared on how corporates and banks are working together through a pilot to deliver a multi-bank gpi experience for multinational corporates.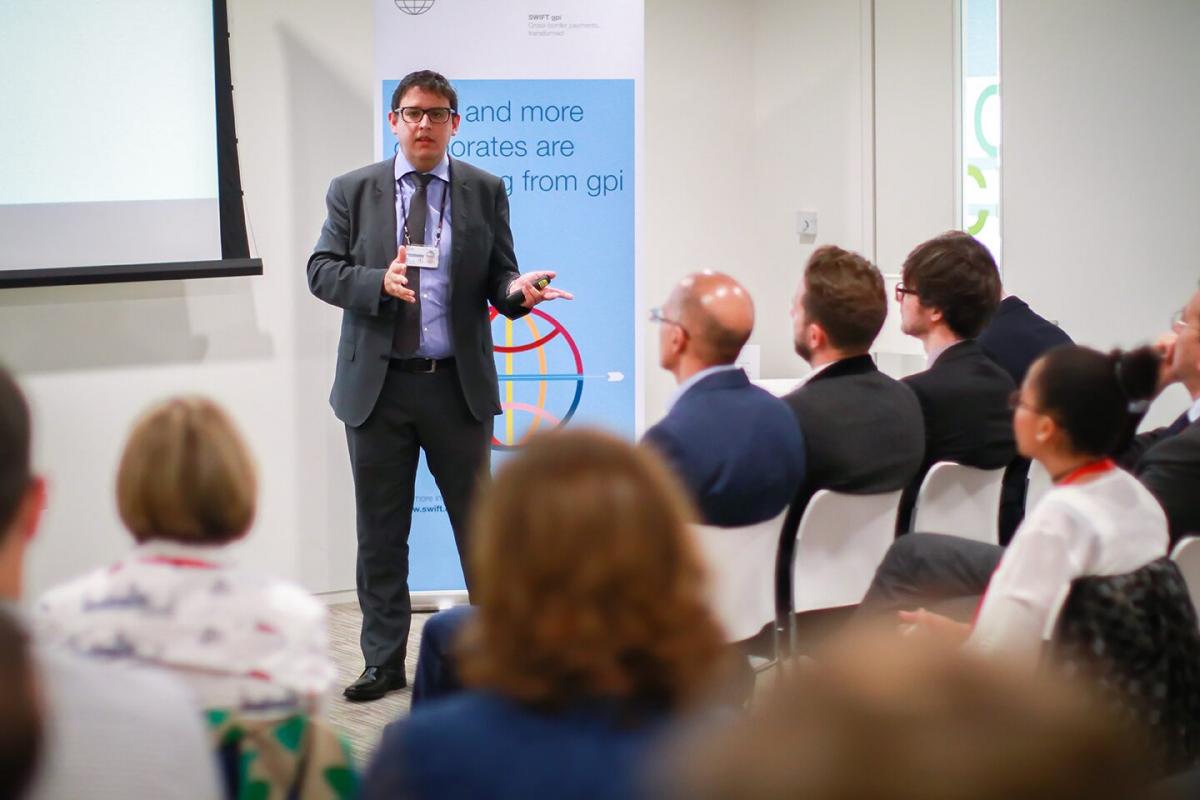 The second day covered Trade Finance and compliance.  Huny Garg, SWIFT's Head of Trade & Supply Chain, discussed SWIFT's on-going commitment to the digitisation of Trade Finance.   Delegates also took part in compliance workshops on key topics such as KYC, with a session  on how compliance-related challenges, including sanctions and anti-money laundering impact the business relationship between banks and corporates, and SWIFT's role in tackling this community challenge. Other workshops focused on Identity Management and gpi, giving delegates the opportunity to learn more about SWIFT's activity in these areas and feed into the process of future product evolution. 
A real spirit of collaboration shone through,  and SWIFT is looking forward to taking this further  with the corporate and banks communities.