The first Standards Forum Indonesia gathers more than 160 participants.
Continuing the ISO 20022 story in Indonesia
More than 160 participants from banks, central banks, market infrastructures, corporates and financial software vendors in Indonesia gathered together to discuss the latest developments in the standards space, network and exchange information with peers as well as to get educated on the current hot topic - ISO 20022. The payments and securities streams were held concurrently at the Borobudur hotel in Jakarta on 29 April 2015.

Sharon Toh, Head of ASEAN at SWIFT, and SWIFT's User Group Chairperson for Indonesia, Agus Retmono, opened the securities and payments sessions respectively and welcomed participants to the first Standards Forum in Indonesia. Below is a summary of the topics that were discussed.
Key highlights
Setting the scene
Alexandre Kech, Head of Securities Market Infrastructures at SWIFT and Kiyono Hasaka, Lead Standards Specialist at SWIFT set the scene by giving a brief history of standards and its evolution in the securities and payments stream respectively. The audience learned about the ISO 20022 story, who is adopting it, drivers of adoption trends, key benefits and its relevance to Indonesia. There are many reasons for adopting ISO 20022, namely regulatory requirements, renewal of legacy systems and interoperability and alignment with other initiatives regionally in ASEAN and globally. All in all, what is certain is that Market Infrastructures around the globe are leading the way in ISO 20022 adoption. The audience was also updated on the potential impact that the latest ISO 20022 and 2015 MT standards release may have on their operations.

Qinwen Xiao, Payments Markets Manager and Alexandre Kech also explained SWIFT's deep involvement and expertise with ISO 20022, and its end-to-end solution to help banks and market infrastructures ease the challenge of adopting ISO 20022 in their organisations.
Asia Pacific and ASEAN trends
Securities stream
Satoru Yamadera, Principal Financial Sector Specialist at Asian Development Bank presented on the Asian Bond Markets Initiatives (ABMI) led by the ASEAN +3 countries. The ABMI was established post-the Asian financial market crisis in the late 1990s, with the objective to develop efficient and liquid bond markets in Asia, thus enabling better utilisation of Asian savings for Asian investments and prevent future crises. The ABMI also contributes to the mitigation of currency and maturity mismatches in financing. Under the ambit of the ABMI, the ASEAN+3 Bond Market Forum (ABMF), has various initiatives focusing on fostering standardisation of market practices and harmonisation of regulations relating to cross-border bond transactions in the region, to which SWIFT actively contributes to. For more information, please refer to asean3abmf.adb.org. Concurrently, on another stream under the ABMI, the Cross-Border Settlement Infrastructure Forum (CSIF) is currently looking into establishing a regional settlement infrastructure for member countries.
Colin Brooks, Global Head of Sub-Custody and Clearing at HSBC shared a practitioner's point of view of adopting ISO 20022. Brooks highlighted the reasons behind why HSBC is an early adopter of ISO 20022, "We see increasing discussion with the Market Infrastructures, increasing connectivity internationally,[…], the ASEAN link, ASEAN+3 Bond Forum, Shanghai and Shenzhen – Hong Kong stock connect project […], it made sense to start to invest in ISO 20022." HSBC is also the early adopter of ISO 20022 with JASDEC in January 2014, followed by ASX for corporate action announcements and has plans to implement ISO 20022 in Singapore for SGX post-trade processes in early 2016. ISO 20022 is shared among multiple business areas and similar datatypes can be used in the same way across different areas within HSBC hence streamlining development. As mentioned by Brooks, "consistency across all business lines is very important […] and HSBC's stand is to use ISO 20022 and the SWIFT network as much as possible."
Ng Chee Kiang, Director and Chief Representative at Euroclear then explained what standardisation and harmonisation means to Euroclear. In addition to its role as an International Central Securities Depository (ICSD), Euroclear is also acting as the Central Securities Depository (CSD) for 7 EU countries hence there is a clear need to adopt standardisation and the use of international standards such as SWIFT MT, ISO 20022 and ISIN, forms the backbone of this operational efficiency. As stated by Chee Kiang, "the value of Euroclear is to provide end to end STP serving as a common market place facilitating different financial asset classes to converge […] it's all about post trade made easy." In the wake of new regulations, harmonisation is more important than ever. Target 2 Securities (T2S) aims to overcome the current fragmentation of the settlement infrastructure and eliminate financial exposures thereby increasing efficiency of collateral management. As Chee Kiang aptly mentioned, "the purpose of T2S is to bring cross borders settlement of today into domestic settlement for tomorrow."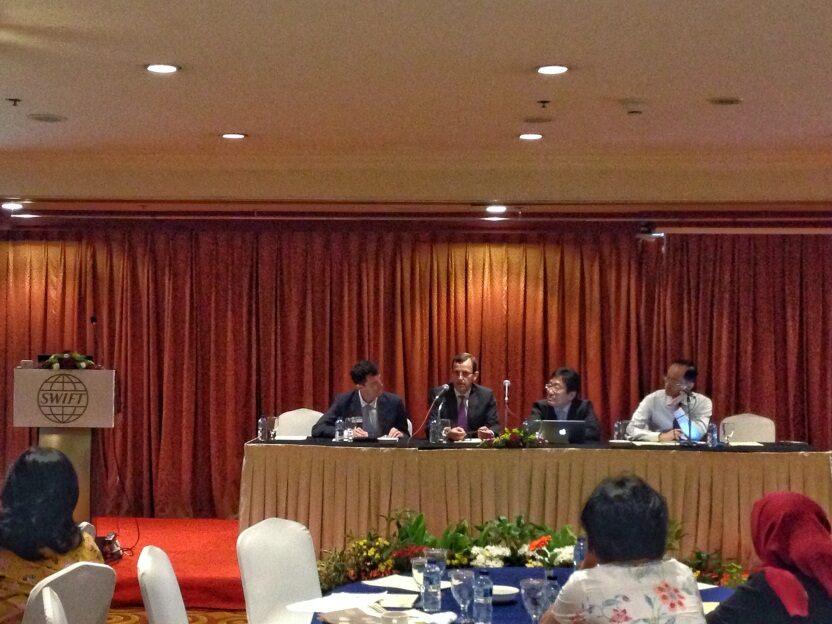 Payments stream
Over at the payments session, David Blair, President of Acarate Consulting, former Group Treasurer of Nokia and Vice President of Treasury at Huawei, shared his experience on the Huawei story and its solution overview, why ISO 20022 standards were needed for Huawei, key differences between SWIFT FIN standards versus ISO 20022 and how SWIFT plays a part in standardisation and harmonisation. Blair also explained how the Common Global Implementation (CGI) played a part in simplifying ISO 20022 standards implementation for corporates and banks.

Jennifer Jarvis, Consultant at the International Finance Corporation presented next on the expansion of digital payments for traditional retailers in Indonesia. The retail distribution chain is an important part of the Indonesian economy and reaches into the mass market through traditional retailers. Distribution chain suppliers predominantly collect invoice payments in cash from traditional retailers who are cash-based businesses. This results in the market being very fragmented and each stakeholder has their own technology solutions to run their business. Hence, there is a need for message standards to allow for the flow of payment and reconciliation data and industry coordination on standards can help facilitate the environment needed to accelerate B2B payments space.
Trends in Indonesia
Margeret Tang, President Director of KSEI, shared the latest development of KSEI and its strategic plans in the coming years. The funds business in Indonesia is very manual and inefficient, in addition to limited processing time, this makes the business error and risk-prone. Hence, there is a need to address this issue and in the next few years, Indonesia will build a new fund system to link all market participants to a single standardised platform. The aim is to not only connect on the distribution, substitution and redemption business, but also at the post-trade processing business. As mentioned by Margeret, "this is part of KSEI's plan to grow the domestic markets thus creating a more efficient one." As part of KSEI's strategic plans, KSEI will adopt ISO 20022 for the C-Best Next Generation tool and an option will be provided for the banks and brokers to use SWIFTNet as a channel.
ISO 20022 workshop
In the afternoon, SWIFT conducted a 2-hour ISO 20022 workshop for its payments and securities streams. Kiyono Hasaka and Magdalene Goh from SWIFT Standards provided a high-level overview of ISO 20022, the XML basics and its messaging standards to the participants, and showed a live demo of MyStandards and Readiness Portal testing tool.
To conclude
Wrapping up the securities stream, Jean Chong, Manager for Securities Market Infrastructures at SWIFT concluded, "ISO 20022 started 15 years ago and evolved to what it is today to cover all business areas. It is very encouraging to see ISO 20022 adoption gaining traction across the globe, particularly in APAC with MI led projects such as by SGX, ASX, JASDEC, AMBD and now, KSEI. With that, we look forward to Indonesia being the next regional champion for ISO 20022 adoption."
Over at the payments stream, Toni Dinoto, Country Manager for Indonesia at SWIFT is encouraged to see the growth in the domestic market in recent years and stressed that SWIFT is always ready to assist the Indonesian community.
Sibos Singapore is the next major event on the Standards Forum calendar. The Standards Forum stand will be a central hub for engaging and debating with the industry on the future evolution of financial standards.
Next stop: Singapore