Annual conference draws together policy makers and experts on cyber security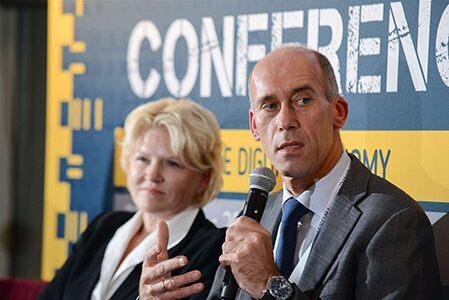 Leo Punt, SWIFT's Deputy Chief Executive, EMEA, was invited to speak at the annual Forum Europe's conference for a debate on cyber security. The one-day event brought together cyber security practitioners, researchers and policy makers as well as senior executives across different industries.
Leo joined a panel with participants from the European Parliament, Statoil, the Vienna Hospital Association, SITA and Sweepatic. The panel focused on security challenges and opportunities faced by industries undergoing digital transformation and becoming increasingly reliant on connectivity. Leo's presentation and contribution focused on the objectives and ongoing implementation of the Customer Security Programme (CSP). In particular, he underlined that while SWIFT customers are individually responsible for the security of their own environments, SWIFT launched the CSP to support customers in the fight against cyber-attacks.
Other topics on the Conference's agenda included the evolution of cyber threats, the review of the EU Cyber Security Strategy and international attempts to develop a global security approach given the global dimension of the digital space.
Further information about SWIFT's Customer Security Programme is available here.