New paper by SWIFT and the Boston Consulting Group discusses ways of unlocking the full potential of trade and commerce for Digital India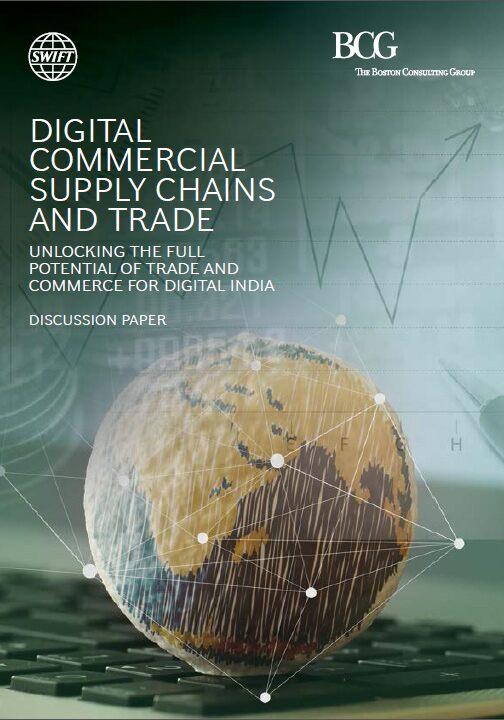 Nature of trade will change significantly over the next few years. Global trends such as fragmented economic growth, reduced tax arbitrage and increasing economic nationalism will drive localised manufacturing and decentralisation, resulting in lower goods export income for the same amount of investment and deceleration of goods trade. However, non-goods trade will continue to increase on the back of Intellectual Property, advisory and services. And physical decentralisation is accompanied with heavy digital integration of global value chains.
Trade, however, continues to be strategically important for India, as the country's aggregate trade across both inland and foreign, stands at close to $2Tand remains a major source of employment. With initiatives like GST (Goods and Services Tax) that aim to dismantle barriers to trade, the size and importance of trade is set to increase.
Currently, around 40% of trade in India is backed by trade finance but processing remains highly inefficient and India significantly lags behind on key metrics such as turnaround time (TAT) and operating costs. India's cross border trade takes 10x-25x times longer and is 3x-5x times more expensive vs high income OECD nations. These inefficiencies cause India to lag behind other similar economies. India ranks 143 in trading across borders and 130 in ease of doing business. SWIFT is committed to the government's vision to improve the ease of doing business rank by working with the Indian financial community, corporates and other trade finance agencies to digitise trade finance processes.
Another important aspect around trade is the innovation and customer experience in payments itself and the SWIFT global payments innovation (gpi) dramatically improves the customer experience in cross-border payments by increasing the speed, transparency and end-to-end tracking of cross-border payments.
Looking at experience from other countries, this paper advocates the adoption of a comprehensive digital trade processing platform to digitise underlying documents and offer a standard interface for all stakeholders, with a National Trade Processing Corporation of India led by the government, acting as a single coordinating body to build a digital trade platform and a single window.
According to Kiran Shetty, CEO of SWIFT India, "It is imperative to create an integrated end-to-end infrastructure that facilitates seamless integration across all entities involved in the supply and value chain. Such a platform will need to be dependable, reliable, easy to implement, with high rates of straight-through processing (STP), and interoperable with international standards. We have been extremely successful in standardising international payments with the existing SWIFT standards, and we look forward to working with the Indian financial industry to automate and standardise trade finance. SWIFT India is a Joint Venture with 9 top banks in India to provide a best-in-class comprehensive and resilient platform for digitising financial ecosystem in India."
It is imperative to create an integrated end-to-end infrastructure that facilitates seamless integration across all entities involved in the supply and value chain. Such a platform will need to be dependable, reliable, easy to implement, with high rates of straight-through processing (STP), and interoperable with international standards. We have been extremely successful in standardising international payments with the existing SWIFT standards, and we look forward to working with the Indian financial industry to automate and standardise trade finance. SWIFT India is a Joint Venture with 9 top banks in India to provide a best-in-class comprehensive and resilient platform for digitising financial ecosystem in India
Download your copy of 'Digital Commercial Supply Chains and Trade'