SWIFT announces that four new Asian banks have gone live on its global payments initiative (gpi) in June. This follows the announcement of ten live Chinese banks on gpi earlier this month.
Together, Ping An Bank (China), Hang Seng Bank (Hong Kong), KB Kookmin Bank (South Korea), and Vietcombank (Vietnam) bring the total number of live banks on the global SWIFT gpi network to over 50. Almost half, or 21 of these banks are in Asia Pacific, a nod to the rapid adoption of SWIFT gpi in the world's fastest-growing region. The entrance of Kookmin Bank and Vietcombank also mark the introduction of SWIFT gpi to South Korea and Vietnam, both important trade partners of Mainland China.
"China's efforts towards globalisation will act as an engine for Asian trade, with its Belt and Road Initiative serving as a potential catalyst for greater connectivity, investment and growth," explains Philippe Dirckx, Managing Director for SWIFT in Asia Pacific.
SWIFT gpi will set a new standard for international trade by increasing the speed, transparency and efficiency of cross-border payments for financial institutions and corporates in the region.
The region's importance in global trade is growing and the Asian Development Bank has predicted a growth of 6% this year, up from its previous forecast of 5.7%, and 5.9% in 2019. According to analysis by HSBC, intra-APAC trade is projected to account for approximately 50% of key global trade lanes by 2030. 
Moreover, China's Belt and Road Initiative will help build major infrastructural connections throughout Asia, which will lay the base for stronger economic integration in the region.
Hang Seng is committed to providing commercial customers with seamless and reliable cross-border financial solutions that enable them to take advantage of new opportunities and grow their business across the region. With SWIFT gpi, our customers will benefit from a more efficient and transparent payment process as part of our ongoing efforts to strengthen our cash management capabilities.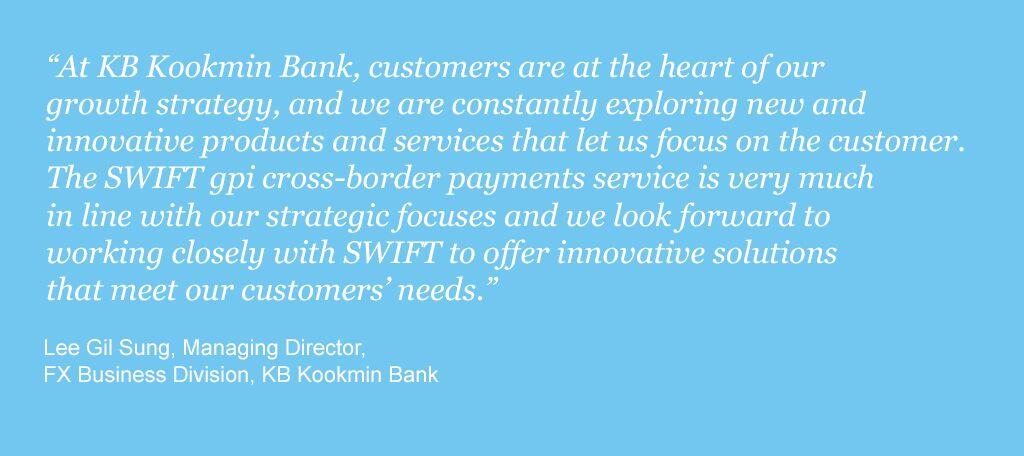 Through SWIFT gpi, Vietcombank provides comprehensive solutions to meet the needs of the international cross-border payment customer. This includes accelerated processing speed and increased transparency and traceability of cross-border payments. Vietcombank will continue to deploy new utilities to speed up the processing time of transactions, including those made between banks with no account relationship with each other and offer timely and end-to-end information on the international money transfer process.
Launched in 2017, gpi already accounts for 25% of SWIFT cross-border payment traffic. More than 165 banks, representing 80% of SWIFT's cross-border payments traffic, and including 49 of the world's top 50 banks, have signed up to the service. To date, 50 million gpi payments have been processed, with hundreds of thousands of payments sent daily across 350 country corridors, in more than 100 currencies. In major corridors, such as USA-China, gpi already accounts for more than 40% of payment traffic.