SWIFT gpi provides Bank Otkritie's customers with greater speed, transparency and traceability of cross-border payments.
Bank Otkritie will be able to provide its customers with a rapid cross-border payments service, with real-time payments tracking and transparency on bank fees and foreign exchange rates.
"The gpi currency payments tracking service takes international payments to a new level, offering a unique opportunity for clients to independently monitor their cash flows online - including those outside Russia - and to receive a payments status indicating time, date, bank, country, and commission amount, as well as a confirmation of funds credited to the account of the final counterparty," said Nina Chaplinskaya, Deputy Head of the Foreign Trade Department, Bank Otkritie.
The widespread adoption of SWIFT gpi has been driven by demand for a faster, more transparent cross-border payments service.  Nearly half of gpi payments are credited within 30 minutes, many within seconds – and almost 100% within 24 hours. The service also enables end-clients to track the status of their payments from end-to-end, and provides an unprecedented level of visibility into each payment – including information about each bank in the payment chain and any fees that have been deducted.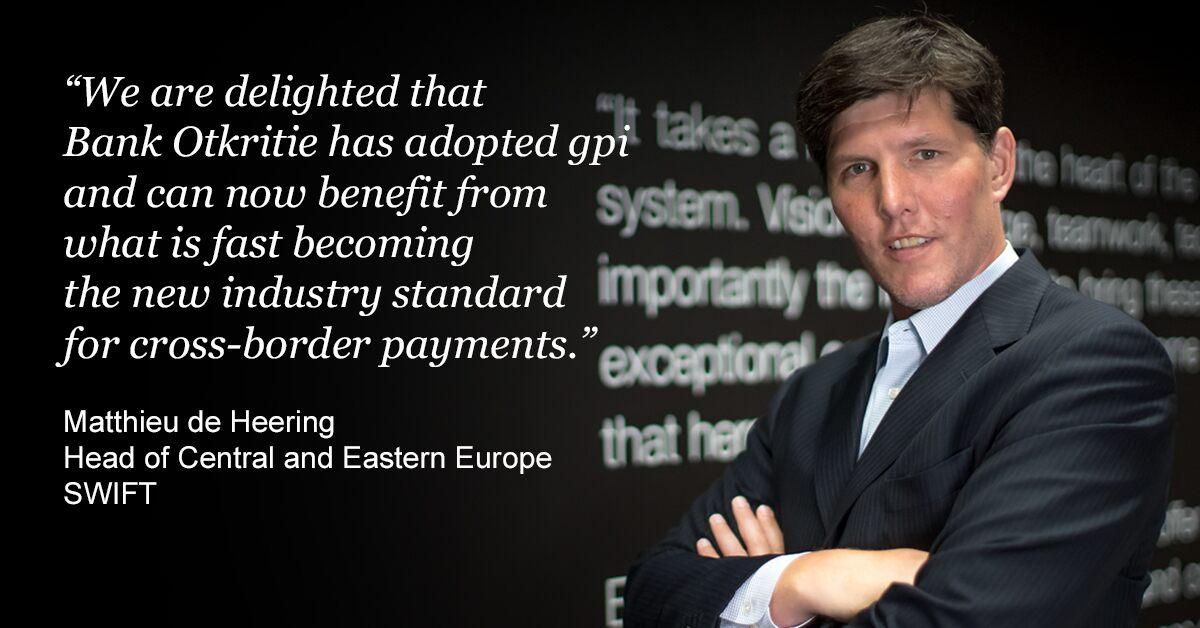 "We are delighted that Bank Otkritie has adopted gpi and can now benefit from what is fast becoming the new industry standard for cross-border payments," said Matthieu de Heering, Head of Central and Eastern Europe, SWIFT. "Banks in Russia are embracing SWIFT gpi as a community and we look forward to seeing more banks go live in the coming months."
SWIFT gpi has been adopted by more than 3,500 financial institutions around the world, with gpi payments are being made in over 145 currencies, across more than 1,200 country corridors. Over 55% of all SWIFT customer payments are now sent as gpi, with nearly half of those being received and processed by a gpi bank. Following the SWIFT community's endorsement of global gpi adoption, SWIFT gpi will be the standard for all cross-border payments by the end of 2020.