What can you expect in 2018?
What can you expect in 2018?
SWIFT is adding several new dimensions to our programme and presence at Sibos.
For the first time, we have created one central space where the various SWIFT elements will come together in a vibrant environment – the SWIFT Hub.
Delegates can choose to learn and demo SWIFT products and services through industry sessions, a varied SWIFT Lab programme, and across Standards and Swift Institute Forums.
The SWIFT stand will have a prominent position in the Exhibition space, and will give delegates the opportunity to meet and network with their SWIFT contacts.
Read more

Programme
Payment
In a demanding payments landscape, SWIFT is playing an active role in advancing the industry towards a faster, secure and more transparent payments infrastructure. 
With gpi we are offering speed, transparency and end-to-end tracking of cross-border payments.  Our instant payments solution will enable customers to leverage their existing connection to facilitate instant payments, reducing cost and mitigating risk.
This is not a test, nor a proof of concept, billions of USD are moving across hundreds of currency corridors, enabling banks to give excellent client service to their customers
Compliance
As banks adapt to meet the challenges of the digital age, the need for robust compliance practices and fraud prevention programmes has never mattered more. Evolving technology and faster payments create new financial crime threats – a challenge we need to address as a community. We'll discuss all this and more, giving you the insights and practical tools you need for your business to thrive.
Security
Secure, Prevent, Detect, Share
The World Economic Forum's "Global Risks Perception Survey 2017–2018" listed cyberattacks as high as number 3 in the top 10 most likely global risks, closely followed by data fraud or theft in 4th place. Added to that, the financial industry is an obvious target for cyber criminals and the threat is fast increasing in terms of sophistication. Cyber criminals are determined, persistent and patient. They rely on their targets having weak cyber defences and will bide their time until these can be easily exploited. The message to all players in the financial industry is simple: don't be the weakest link and allow the criminals into your organisation. 
At this year's Sibos, you'll hear from leading experts in security and cyber issues as well as learning from your financial industry peers. You will also hear the latest from SWIFT on the Customer Security Programme its roadmap for the future.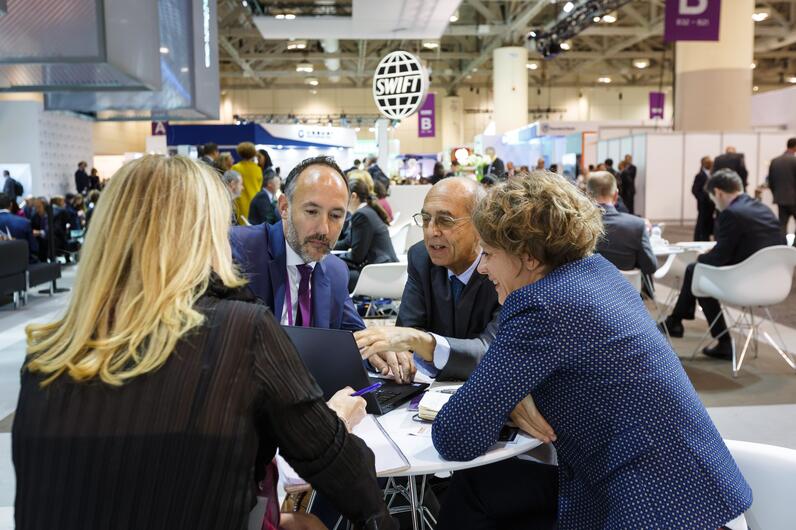 Stay Tuned
Going to Sydney in October? Make sure you subscribe to our newsletter and receive exclusive updates from  the SWIFT Hub.
SWIFT at Sibos newsletter covers everything you need to get you equipped for the event: top sessions to attend, hottest news, top videos to watch and much more.
Can't make it to the event? We got you covered. Be the first to receive exclusive news from Sibos 2018 and future editions.
SWIFT at Sibos is only an email away.
Subscribe to the newsletter