Innovation Forum
Reimagining Japan's payments future
At the SWIFT Payments Innovation Forum Japan 2019, we will explore the current opportunities and challenges faced by the Japanese payments industry to shape the future of banking.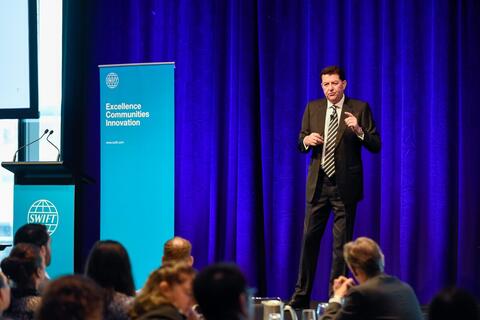 We are confident this forum will offer the Japanese community an invaluable opportunity to share insights and prepare for the future
#PIFJapan

Increasing speed, transparency and traceability in payments
The SWIFT Payments Innovation Forum Japan was held successfully on 11 April 2019 at the Imperial Hotel Tokyo. The event was a resounding success, attracting 287 participants representing financial institutions, regulators, market infrastructure experts, multinational corporations, and other industry professionals, to discuss the most pertinent issues concerning the nation's financial market.
We are pleased to share with you the event photos as well as the presentations used at the forum.
We look forward to seeing you again at the next forum!
2019年4月11日に帝国ホテルにて開催いたしました「スイフト ペイメンツ イノベーション フォーラム」にご参加いただき誠にありがとうございました。金融機関、当局、市場基盤のエキスパート、多国籍企業や各業界のプロフェッショナル等合計287名様をお迎えし、お蔭様で盛況のうちに実施することができました。フォーラムでは日本の金融市場において極めて関心の高い課題について活発な議論がなされました。このお知らせにて、当日の写真とプレゼンテーション資料をご案内申し上げます またお会いできる機会を楽しみにしております。
ダウンロード スイフト ペイメンツ イノベーション フォーラム ジャパン 2019 プレゼンテーション資料

The Venue
Imperial Hotel
This legendary Tokyo landmark has welcomed royalty, heads of state, celebrities and international business leaders for over 120 years, offering discreet, highly personalized services, restrained elegance, award-winning cuisine and refined, impeccable Japanese hospitality.
Read more