Regional Conference
Digitisation in transition: The future of innovation and cyber security
The SWIFT India and South Asia Conference was held successfully on  9 May 2019 at the St Regis Mumbai.  The event was a resounding success, attracting close to 500 participants representing financial institutions, regulators, market infrastructure experts, multinational corporations, and other industry professionals, to discuss the most pertinent issues concerning the nation's financial market. 
We are pleased to share with you the event photos as well as the presentations used at the forum (downloadable below).   We look forward to seeing you again at the next forum!
Download presentations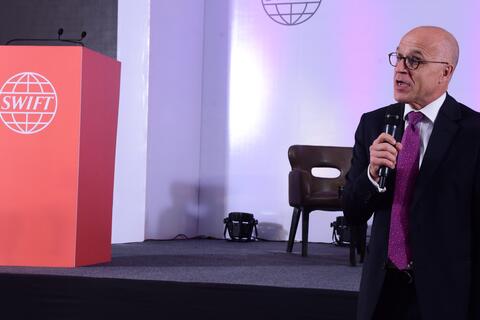 This Regional Conference will offer an invaluable opportunity to share our ideas in fostering a more vibrant financial community
Alain Raes
Chief Executive, Asia Pacific and EMEA, SWIFT
#SWIFTISARC

The future of innovation and cyber security
Recent government ambitions to propel India into a top-five economy have brought about increased focus on trade digitisation and the value of trust across the faceted banking sector. India recorded a jump of 23 positions in 2018 against its rank of 100 in 2017 and is placed now at 77th rank amongst 190 countries in the World Bank's Ease of Doing Business Index. This leap is significant as India already went up 30 ranks the previous year, a rare occurrence for a country as large and diverse in scale. While a lot has been achieved, there is still a lot to be done. Cumbersome paperwork and fragmentation in value chains can no longer exist if India wants to move up the notches of being a world-class economy. 
Ushering in an era where India is leapfrogging with technology and digitising trade processes will emerge as a game-changer. As innovation reshapes the industry, technology poses equal challenges. Today, cyber-attacks and insider fraud continue to evolve and are becoming more frequent and widespread. Attackers are improving their tactics and techniques faster than security and audit teams can keep up and their methods grow more sophisticated with time. 
 
India faces new challenges constraining their ambitions, including a changing competitive landscape, unpredictable geo-political pressures, increasing regulation and technological change, and fast-moving information security threats. Successful businesses will be those that cultivate connections through a combination of humans and machines, with data serving as the lifeblood that drives growth, informs decisions and strengthens connections. Staying ahead of the game is the only option for the banking sector.
The SWIFT India and South Asia Regional Conference 2019 will gather the local community representing financial institutions, market infrastructures, regulators, multinational corporations, and other industry experts to discuss these key issues with a specific focus on innovation and our preparedness to face challenges around cyber security.
We are confident that this Regional Conference will be an invaluable opportunity for you to share and collaborate with the financial ecosystems of India and South Asia.  
 
The venue
The St. Regis Mumbai
The St. Regis Mumbai has been rightfully called "The Address" as it is located in the heart of the 'commercial capital' of India.
Read more