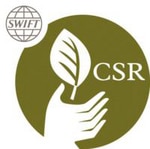 SWIFT works with and for financial communities across the globe.
We know this is a privilege as well as a responsibility, and we are committed to making a positive impact wherever we can.
We integrate social, environmental, ethical, and human rights concerns into our operational strategy. Education, diversity, sustainability, community outreach — these issues are important to us, and as such are embedded in our company mind-set.
Click here to read more about our Corporate Social Responsibility engagement in APAC.