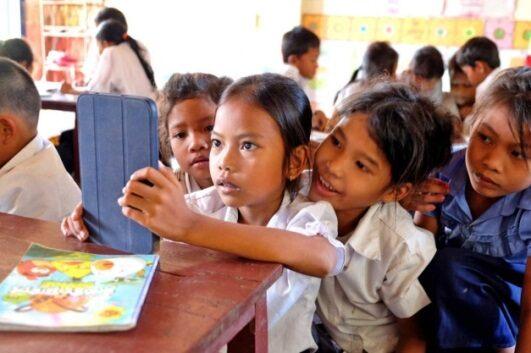 SWIFT works with and for financial communities across the globe. We know this is a privilege as well as a responsibility, and we are committed to making a positive impact wherever we can.
We integrate social, environmental, ethical, and human rights concerns into our operational strategy. Education, diversity, sustainability, community outreach — these issues are important to us, and as such are embedded in our company mind-set.
In Asia Pacific, SWIFT has been sponsoring charities while organising events in the region since 2007, with a special focus on education and under-privileged children.  St Catherine's Home in India, Changing Young Lives in HK, Beyond Social Services in Singapore have been among our beneficiaries. Additionally, we have supported SOS Children's Villages in China, the Philippines, Indonesia, Thailand, Vietnam, Taiwan, India and Bangladesh. This long lasting partner of SWIFT works to meet the needs and protect the interests and rights of children.
At this Sydney Business Forum, we are happy to provide financial support to Many Rivers. This non-profit organisation supports mainly indigenous people and communities living in disadvantaged contexts, by helping them to operate a sustainable and thriving small business as a pathway out of disadvantage. The Small Business in Schools programme, designed to engage high school students to consider small business as an optional pathway after graduation, is run in remote community schools in Western Australia where employment opportunities are scarce. By practically operating a small business during the school year, it gives them valuable real life experience of entrepreneurship with the intention to address barriers to employment in regional and remote Australia. SWIFT's grant will be used to promote the programme in remote Aboriginal communities so students become aware of opportunities available to them after leaving school.
Education is a key focus of SWIFT's Corporate Social Responsibility programme. For this reason, we continue to support Teach for Bangladesh, working to reduce educational inequity in Bangladesh. Our donation contributes to the training of the next cohort of teachers who spend two years embedded in low-income primary schools. We also support the WIMLER Foundation, an association that provides tutorial and afterschool activities for under privileged youth in Hong Kong.
In addition, SWIFT has extended its support to micro-finance and financial inclusion initiatives in emerging countries, since they are close to our business. In Asia, we help the Mann Deshi Foundation in India, whose aim is to develop the intangible assets of women - tech and business skills, property rights and leadership - to reach rural economic empowerment. Our recent support enables Mann Deshi's Business School to expand in order to reach more underserved communities. In the past, the SEED Centre, a Filipino community-based organisation working in the area of micro-finance, also benefitted from our support.
To the best of our abilities, we seek to respond to needs arising from humanitarian emergencies through corporate donations, voluntary work and donation-matching campaigns. In 2016, following the earthquake in Japan, we made an emergency donation to the Red Cross for the victims of the Kumamoto area.
Employee engagement is one of our key priorities, with over 24% of staff actively engaged in various associations.
Finally, SWIFT financed the planting of 130,000 trees in India through our partnership with WeForest, an NGO devoted to reforestation of bio-diverse and indigenous forests in tropical countries while providing jobs for women and enabling them to send their children to school.