Community event
SWIFT @ AFP
SWIFT is sponsoring and speaking at AFP 2019, taking place 20-23 October in Boston. The annual conference attracts over 6,500 corporate finance professionals and is a key event for the treasury and finance community worldwide. 
Stop by exhibit area #2214 to meet SWIFT experts and learn more about SWIFT products and services.
SWIFT will be participating in two AFP panel sessions, and hosting four sessions at the SWIFT exhibit area.
Speak to a SWIFT representative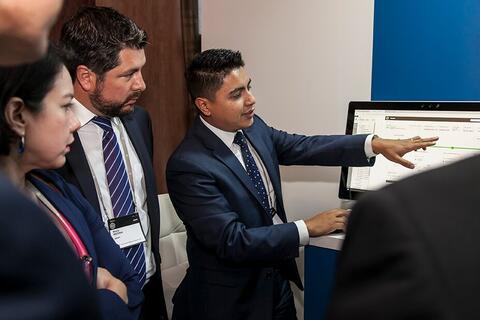 AFP Panel 1: SWIFT on Innovation: Payments, Looking to the Future
When: Tuesday, 22 October | 8:30-9:30 am
Where: Room 157ABC
Innovation in cross-border payments continues to be on the rise – driven in part by new market entrants, evolving technologies, and regulatory and compliance pressures.  Customers expect the same fast and frictionless payment experience that they receive in their everyday lives, creating a catalyst for the global transformation of banking and financial services. But what innovations should be prioritized in order to ensure cross-border payments become faster and simpler, while remaining secure and compliant?  How are banks responding to customer demands for speed, certainty and traceability; coupled with transparency of fees and rich remittance information?
Hear first-hand how financial institutions and corporates are already transforming their cross-border payments experience with SWIFT gpi.
Panelists:
Betsy Clark, Director of Treasury, Alliance Data Systems (moderator)
Rene Schuurman, Global Product Manager - Channel Services, Citi
David Scola, Acting Chief Executive of AM-UK Region, SWIFT
Lisa Wagner, Group Manager Treasury, Microsoft Corporation
SWIFT Stand (#2214) gpi sessions
Today more than ever, the corporate treasury paradigm is being shaped by a new reality that demands greater transparency, efficiency and certainty. Live since early 2017, SWIFT gpi dramatically improves the customer experience by increasing the speed, transparency and end-to-end tracking of cross-border payments.
Join us to hear how this new standard in international payments can generate added value for multi-banked international corporations.
MONDAY, 21 OCTOBER 
9:30 to 10:00 AM  - Unveiling the Value of SWIFT gpi for Corporates with Citi
TUESDAY, 22 OCTOBER 
10:00 to 10:30 AM - Discover SWIFT gpi for Corporates with Microsoft
AFP Panel 2: What's Your Game Plan for Data and Cybersecurity? Prepare for the Unexpected
When: Tuesday, 22 October | 1:45 pm - 3:00 pm
Where: Room 252AB
Data, cyber and identity controls are top priorities for corporates and have become a board-level topic. What do corporate treasurers need to consider when working with their team, their banks, technology partners (ERP, TMS, AP) and providers?
Join this discussion to learn about the current threats impacting the industry, and the trends shaping data security and cybersecurity from a corporate, bank and SWIFT perspective. This panel shares practical approaches to strengthen your data security and cybersecurity from three fronts: the people, processes and identifying right tools.
Panelists:
Pat Antonacci, Head of Customer Experience, SWIFT
Stacy Rosenthal, Senior Vice President, Head of Payments Product, Santander
Bob Stark, Vice President, Strategy, Kyriba
Brooke Tilton-Foley, CTP, Vice President, Treasury Operations, Viacom Inc.
SWIFT Stand (#2214) KYC for Corporates session
The KYC process is a burden for everyone involved. It is time-consuming, repetitive and extremely costly. Corporates using the services of multiple banks face an uphill battle to comply with KYC. While there have been many proposed solutions, many have been unable to deal with the complexity and were not fit for purpose. Based on the success of the KYC Registry for Correspondent Banking, the same solution is being extended to cover the needs of corporates and their banks.
Discover how the SWIFT KYC Registry will bring efficiencies in the KYC process between banks and corporates, and hear from peers who have joined forces to create an innovative industry solution.
MONDAY, 21 OCTOBER 
1:00 to 1:30 PM – KYC: a common industry problem - one collaborative solution with Seaboard
TUESDAY, 22 OCTOBER 
1:00 to 1:30 PM – KYC: a common industry problem - one collaborative solution with Seaboard