Transforming corporates cross-border payments experience
Swift global payments innovation (gpi) is revolutionising corporate treasurers' cross-border payments experience by combining real-time payments tracking with the speed and certainty of same-day settlement for international payments.
Currently, once corporate treasurers have sent cross-border payment instructions to their bank, they typically have no sight on what actually happens with that demand or the final costs involved. This can, for example, lead to problems with suppliers or end-customers, as well as increasing financial risks resulting from payment delays.
Swift GPI is changing all this by delivering a new standard in international payments. Thanks to gpi, corporate treasurers can now receive a real-time, end-to-end view of their cross-border payments combined with a confirmation notice when the money reaches the recipient's account. It also enables more accurate reconciliation of payments and invoices by suppliers, optimises liquidity with improved cash forecasts and reduces exposure to FX risks.
Now live, with more than 35 global transaction banks actively using the Swift GPI service.
Global corporates urge banks to use Swift GPI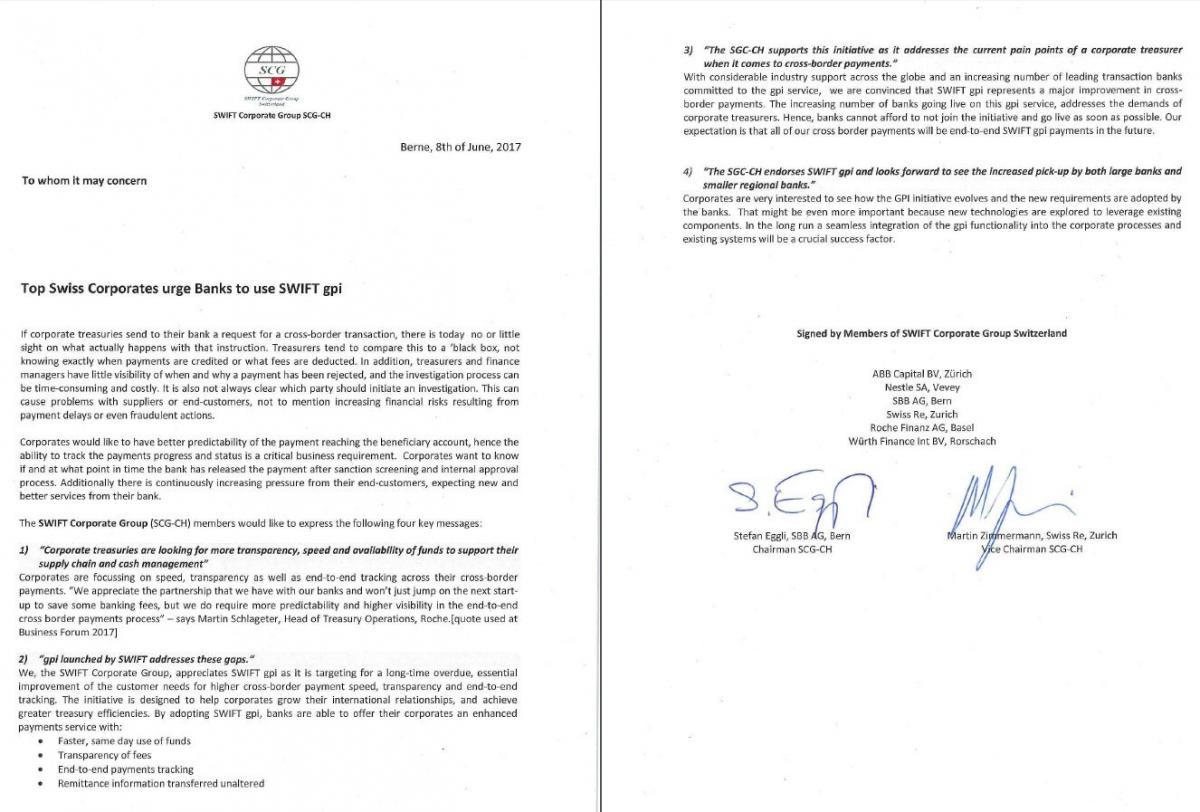 he endorsement letter from a number of leading Swiss corporates (see across) provides a perfect insight into how businesses are now urging their banks to join gpi and take advantage of the benefits that the service has to offer. So now's the time to ask your bank about Swift GPI or contact us at swiftforcorporates@swift.com.The future of payments: corporates speak outFrom PSD2 to blockchain, the payments landscape is changing rapidly. But which developments are relevant to treasurers? And where are the biggest pain points?Read the Eurofinance report: