40% of all payments made between the UK and China/Hong Kong are exchanged in RMB
Brussels, 28 April 2016 – According to SWIFT's latest RMB tracker, the United Kingdom's RMB payments value increased by 21% between March 2014 and March 2016, positioning the United Kingdom as the first offshore RMB clearing centre after Hong Kong. Singapore overtook the United Kingdom in February 2014, but the trend started to reverse as of January 2016. Hong Kong still remains the world's largest offshore RMB centre, processing 72.5% of all RMB payments, followed by United Kingdom with a share of 6.3% and Singapore with 4.6%.
SWIFT data also shows that 40% of all payments made between United Kingdom and China/Hong Kong are exchanged in RMB. The Chinese currency is by far the most used in this corridor, followed by the Hong Kong dollar (24%) and the British pound (12%).
"Since the China Construction Bank (London branch) became a clearing bank in the United Kingdom in June 2014, there has been a steady growth of RMB payments between the United Kingdom and China/Hong Kong," says Stephen Gilderdale, Managing Director, UK, Ireland & Nordics at SWIFT. "Offshore RMB clearing centres are driving greater use of the currency in global trade, and countries such as the United Kingdom, are reaping the benefits."
In March 2016, the RMB remained stable in its position as the fifth most active currency for global payments by value with a share of 1.88%, a slight increase from 1.74% in February 2016. Overall, RMB payments value increased by 18.46% compared to February 2016, whilst in general all payments currencies increased by 10.67%.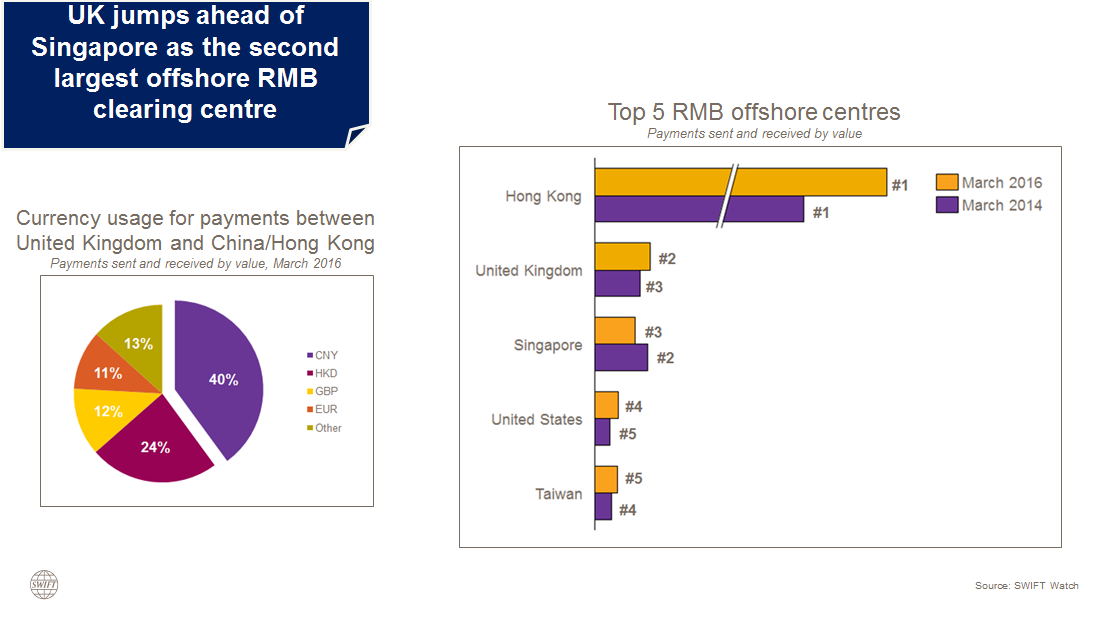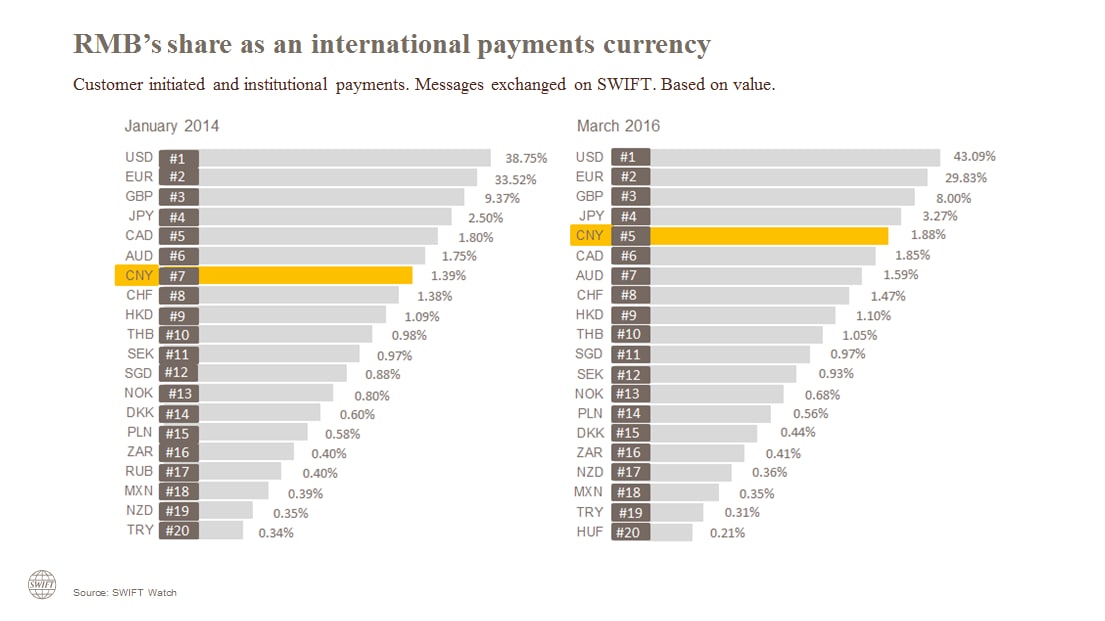 About SWIFT
SWIFT is a global member-owned cooperative and the world's leading provider of secure financial messaging services.
We provide our community with a platform for messaging and standards for communicating, and we offer products and services to facilitate access and integration, identification, analysis and financial crime compliance.
Our messaging platform, products and services connect more than 11,000 banking and securities organisations, market infrastructures and corporate customers in more than 200 countries and territories, enabling them to communicate securely and exchange standardised financial messages in a reliable way.
As their trusted provider, we facilitate global and local financial flows, support trade and commerce all around the world; we relentlessly pursue operational excellence and continually seek ways to lower costs, reduce risks and eliminate operational inefficiencies.
Headquartered in Belgium, SWIFT's international governance and oversight reinforces the neutral, global character of its cooperative structure. SWIFT's global office network ensures an active presence in all the major financial centres.
For more information, visit www.swift.com or follow us on Twitter: @swiftcommunity and LinkedIn: SWIFT

Contacts:
SWIFT Press Office
+32 2 655 3373
pressoffice@swift.com