Over 120 members of the Ukranian financial community come together to discuss standards, compliance and corporate access
The first SWIFT Business Forum in Kiev took place at the Fairmont Hotel on 19 May 2016. The event brought together 120 participants from Ukraine's financial sector under the theme "Building a future-proof Ukrainian financial market based on international standards" and was organised together with UkrSWIFT, the SWIFT national member and user group for Ukraine.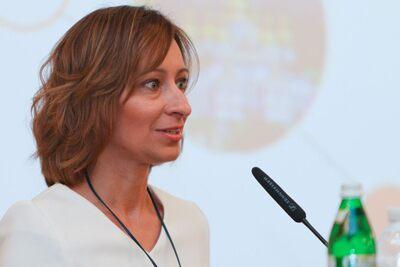 Welcoming customers to the forum, Ilona Pouna, Regional Manager, CEE, SWIFT, thanked UkrSWIFT and SWIFT's local partner, Profix for their support and cooperation in organizing the event and went on to state some of the reasons for holding a business forum in Kiev. One of these is that that Ukraine is a large market with huge potential. With a population of over 42 million people, 53% of whom hold a banking account, the country has 111 banks with total capital cost of 51.3 billion EUR. Following a period of economic uncertainty and sharp drops in consumption and investments, it is expected that the Ukranian economy will recover this year and get back on the path to growth. The International Monetary Fund (IMF) has forecast that Ukraine's economy will grow only slightly in 2016, at 1.5%, with further growth expected in 2017 (2.5%) and greater improvements to growth rates thereafter. Also, the implementation of free trade, which is part of an agreement on Ukraine's integration into the EU, signed in 2014, is expected to start in late 2016 and Ukraine and the EU are seeking closer relations including gradual economic integration. Already today, the EU is Ukraine's largest trading partner and is responsible for over a third of trade. In addition, the EU is the main source of direct foreign investments in Ukraine.