SWIFT India went officially live on 3rd of March 2016. This formation as a joint venture is fully committed to serving and addressing domestic market needs, in partnership with the top 9 public and private banks of India.
The Go-Live Ceremony of SWIFT India on 3rd March 2016 marked a historical moment for the Indian financial community as the nation forges on digitising their economy with ambitious goals of being 90% paperless by end of 2016. The national communications infrastructure is one of the pillars on which the foundation of this growth and innovation is built. To support and strengthen this foundation, SWIFT India is honoured to contribute to the laying of the 'financial rails', for which the financial sector will grow and innovate upon and the following services are now live on SWIFT India: corporate to bank, interbank trade, interbank treasury, NACH and corporate to bank payments. More than 200 participants from India's financial industry, banking and securities participants, corporates and regulators, gathered on this momentous day to celebrate the milestone that represents the Go-Live of SWIFT India.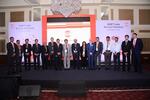 The participants were welcomed by Mr. M.V. Nair, Chairman of SWIFT India who passionately shared his vision of SWIFT India to the community: a shared utility by the community, for the community and approved by the Reserve Bank of India that can connect all participants with a resilient and secure network.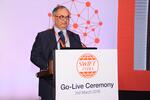 Mr. Chandan Sinha, Executive Director of RBI then shared his observations on India's need for robust financial market infrastructures and banking channels to support RBI's policy initiatives, and reiterated the confidence he has that SWIFT India will help the nation attain their aspirations.
Alain Raes, Chief Executive APAC and EMEA of SWIFT and member of the Board of SWIFT India shared that his utmost goal is to help drive standardisation and efficiencies, whilst supporting inclusive and sustainable growth for India.
This is only the beginning. SWIFT India may now be live with RBI, 12 banks, and one of India's largest corporates locally and globally but we still have a lot to do. We look forward to welcoming the National Automated Clearing House (NACH), other market infrastructures and market participants to join SWIFT India in realising India's dream of complete digitisation.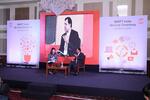 The new service provided by SWIFT India will not only have great benefits for the banks, but also for the corporates. Mr. T. Venkatasan, Head of Treasury at Tata Consultancy Services conversed with Stella Lim, Head of Corporates Sales of SWIFT APAC – discussing the many benefits his firm anticipates to have and he urged other corporates to join the platform and that banks should stand ready to serve their clients to realise India's dream of economic liberalisation.
Photos of the event on Smugmug