Global executives from SWIFT joined CIPS in Shanghai for a roundtable on financial markets infrastructures, attended by over 30 participants from CFETS, China Clear, Shanghai Clearing House, and China Bond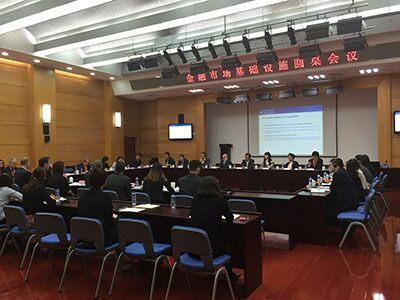 On May 26, 2016 in Shanghai, SWIFT shared their experience working with various market infrastructures globally, giving the participants some insights on trends and explaining how they support these market infrastructures across the globe. SWIFT also presented their 2020 strategy, as well as their connectivity and services. As the registration authority for ISO 200022, the latest internationally recognised financial messaging standard, already adopted by CIPS for its payment system, SWIFT went through the implementation process of the standard that can allow the use of Chinese characters in addition to its richer content functionalities.
Built to manage all cross-border RMB payments, CIPS is taking a leading role in the internationalisation of the Chinese currency. Mr Li Wei, Executive Board Director explained how CIPS are currently improving the stability of their payment system, which now has 19 direct participants and 344 indirect participants. He introduced their future development plans which include increasing the number of participants, but also enabling inter-linkage with other China financial markets infrastructures.
Delegates participating to the roundtable introduced their current business situation and their development plans, leading to a lively discussion between all participants. All participants agreed that to internationalise further the RMB and to open more the domestic financial markets, communication and collaboration need to be strengthened and that all parties will benefit from it. Standards were recognised by all participants as key to success when it comes to financial communication and looked forward to working closer with SWIFT to support them in that respect and unify the different standards currently in use.
On March 25, 2016, SWIFT and CIPS have signed a memorandum of understanding (MOU) that set out plans for a strategic collaboration to collaboration to develop China's Cross-border Interbank Payment System (CIPS) using SWIFT as the secure, efficient and reliable channel to connect CIPS with SWIFT's global user community.
Internationalisation of the RMB requires global reach and connectedness of a network such as SWIFT's. As of today, 1,700 financial institutions have made RMB transactions using the SWIFT network. SWIFT has operated in China for over 30 years and nearly 400 Chinese financial institutions and corporations are connected to SWIFT today.
Read more: SWIFT offers secure financial messaging services to CIPS