Swiss financial community comes together to discuss innovation, transformation and the need for collaboration to secure the future of our industry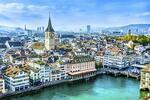 Over 150 members from across the Swiss financial community gathered on the morning of 16 March 2016 at the UBS Grünenhof conference centre in Zürich for the SWIFT Business Forum Switzerland. Under the theme "Building for the future: Innovation, transformation and the bank of tomorrow," the programme for the event was framed by the SWIFT 2020 strategy and looked at the disruption and rejuvenation of correspondent banking, financial crime compliance, the rise of real-time payments, the global shift towards ISO 20022 and the latest developments in the securities markets. Opening the event, Cristina Rigo, Head of SWIFT Switzerland, welcomed the audience and said that with over 150 participants from 50 institutions, it was great to see that the topics on the agenda had struck a chord and attracted such a large and varied audience. In an industry that is undergoing a lot of change, with new technologies and new ways of working, some of which we embrace and others that we observe attentively, it is more important than ever to inform, debate, exchange and network, she said. Concluding her welcome remarks, she handed over to SWIFT's CEO, Gottfried Leibbrandt, for his CEO update.
Innovation has to be targeted, one size does not fit all.
Focus on the core, prepare for the future
Leibbrandt opened his speech giving a brief overview of SWIFT's performance in 2015, which, he said, was a very good year in which the cooperative did well along the 3 key dimensions of usage, operational excellence and renewal. He also stated that the company had done well on the pick-up of new services such as Compliance services, Business Intelligence and SWIFTRef. Moving on to the future, he defined the SWIFT 2020 strategy a "sounds strategy" and expressed his confidence that SWIFT can execute and deliver on what is set out therein. He did, however, clarify that it would not be without challenges and explained that cyber threats, geopolitics and disruptive innovation are all things that keep him awake at night and that we all have to contend with. One area where this is clearly visible is the payments markets. Using research that shows the state of play in both domestic payments and international payments, he went on show how various different segments – high value payments, cards, cheques and ACH payments - have evolved over time and how, despite volumes increasing, the average value of transactions going across any given system has not changed in any significant way over time. "The successful new entrants thus far have exploited the gaps in the segmentation," he said, "and haven't tried a one size fits all approach." What this means, he proposed, is that design becomes much easier if you are clear about the segment you are serving. "Innovation has to be targeted, one size does not fit all," he stated. "That doesn't mean that what works for a segment today isn't unchallengeable," he continued, "all of the segments are challengeable – and a lot of effort and money is going into disrupting each of them."
SWIFT is already taking actions in some areas to address this and is active in real-time payments with the Australia New Payments Platform. Another area that it is addressing is that of correspondent banking, with the global payments innovation initiative, a project that aims to transform existing practices in correspondent banking and marks an important step towards banks being able to deliver of cross-border payment services with greater speed, transparency and predictability to their corporate customers. Drawing his speech to a close, he assured delegates that the years to come will certainly not be dull, but that SWIFT's main focus will of course remain the efficient running of its core business, for the benefit of the community.
An evolving payments landscape
The next topic on the agenda was introduced by Thierry Chilosi, Head of Markets & Initiatives, EMEA, SWIFT, who looked at how the payments landscape has changed since the late 1990s and explained how the pace of change today is greater than we have ever seen before. In such a quickly evolving landscape, both SWIFT and the community that it serves have to keep up with the pace of change, evolve and prepare the future in order to remain competitive. In this context, SWIFT is already working on a number of initiatives. In the area of real-time payments, as mentioned by Leibbrandt, we are already present with the Australian New Payments Platform project, and are also looking to adapt this solution for instant payments in Europe. In the correspondent banking area, SWIFT has launched gpii, which aims to address the current service level issues in this area and dramatically improve the customer experience in cross-border payments. Increased speed, transparency and predictability of cross-border transactions will be the core values of the new service. To date, 45 banks have signed up for the initiative, the pilot phase for which is scheduled for April 2016.
We are happy that SWIFT has come up with the gpii initiative, as with no action, someone else will step in. Payments need to be smarter, faster, cheaper and standardized.
Following his introduction, Chilosi introduced his panelists, Beat Bannwart, Head of Product and Market Development Transaction Banking, UBS AG; Nicole Walker, Head Product Management Payments Solution, PostFinance; Martin Schlageter, Head of Treasury Operations, Roche and Jürg Weber, CEO, SIX Payment Services. Shlageter, the corporate treasurer on the panel, commented that he fully agreed with the pain points in correspondent banking and is interested to see how the gpii approach will fare in a market with so many new entrants, that is undergoing so much change. Bannwart stated that what corporates want and need is efficiency, and the ability to concentrate on their business, not on payments. Key to achieving this, he said, are standardisation and automation. International payments need to follow the same direction as local payments, he said, and move towards real-time. So optimization is necessary not only in the individual countries, but also across countries. Walker explained that from her point of view, whether it is alone or in cooperation with a fintech company, the banks need to embrace mobile and do their utmost to improve the customer experience, making life for customers simpler and easier. Weber explained that solutions that are working brilliantly today, such as cards payments, cannot be assumed to be here to stay, and that over not very much time, chances are that plastic will be out, as it is not a big step to disintermediate the middle man in mobile payments, i.e. the card companies. "There will be a tipping point'" he said, "and then it will happen quickly." He then went on to state that "once a card goes into the iPhone space you are already being taken over by a fintech company. And we, the banks, then have a serious problem. So we are working on it." Bannwart added to Weber's comments saying that "the race is on, but if there are too many developments, none of them will reach critical mass, and without that, you can't succeed." The banks need to work together he stressed, because the corporates want one solution, not many. So it is critical to collaborate. "The key takeaway," continued Schlageter, "is that things are happening very fast. We are happy that SWIFT has come up with the gpii initiative, as with no action, someone else will step in. Payments need to be smarter, faster, cheaper and standardized."
It's a tough market to survive in, but I think we are doing well so far.
Asked how his institution keeps delivering whilst innovating, Weber explained that having joined SIX group 6 months ago, he has had to reorganize to fulfil this demand. A new section has been created called "Future payments," the sole mission of which is to reinvent the business. The structure allows for cross-fertilisation and encourages the new section to innovate whilst referencing and piggy-backing on what works really well today.  "It's a tough market to survive in, but I think we are doing well so far," he concluded.  In her final remarks, Walker stated that what is most important is that "we don't forget to take the customers with us on our journey," explaining that SMEs in particular, need transformation to happen with them, showing them the way and helping them along as they go.
It's important that we don't forget to take the customers with us on our journey.
Evolution or Revolution in the Securities Industry?
An update on the securities landscape came next, with Isabelle Olivier, Securities Initiatives & Payment MIs, EMEA, SWIFT, giving the delegates a detailed view of the changes that have happened recently in this industry and the many more that are underway. "The securities industry hasn't always been fast-moving," she said, "but in the past few years things have changed a lot." She ran through the myriad of regulatory changes – including CSDR, MiFID, and EMIR, the changes aimed at risk reduction, where the focus is on collateral management to optimize the use of securities to cover risks, open access and the move to T+2. She then covered the political agenda for harmonisation and the changes in the landscape that are being brought about by T2S. "There is more and more competitive pressure," said Olivier. "The CSDs are reinventing themselves, the focus has shifted to asset servicing as settlement becomes a commodity and there is a need to offer something more, something different, such as new collateral management platforms and enhanced services."
Looking in more detail at whether T2S will deliver on its stated objectives, Olivier ran through the objectives one by one. On the reduction of post-trade costs, she explained that the 15 euro cent price per transaction is in some cases higher than the original domestic cost, and to that one must add the cost of investment to migrate to T2S, so there are doubts about this one. On easier access to capital markets, we will see, she said. Many barriers still remain, in areas such as tax, for example. But there is hope that over time, this objective will be achieved. Regarding the expected increase of volumes, the business case was pre-financial crisis and pre-netting, but the Eurosystem is now looking at what else could be put on the platform – Eurobonds, investment funds, non-Euro markets such as Denmark… Lastly, on liquidity savings, she concluded that this objective has been achieved. Each participant has a single pool of cash in central bank money, the auto-collateralisation services are good and this is already seen as the main advantage for those CSDs that have already migrated. Moving to on talk about technology, she stated that technology is both an enabler and a facilitator and that it increases automation and makes things simpler and more efficient for everyone. When it comes to SWIFT, she explained, our role is to help the securities industry and its members by monitoring changes supporting with impact assessments and technical implementation, compliance and connectivity. As to whether what we see is an evolution or revolution, her view was that for now it is an evolution, but that an accelerated revolution could happen both on the business side and the technology side. "So let's stay vigilant and active," she concluded.
Demystifying the world of standards
In response to the Swiss community's interest in and commitment to standards, Andrew Muir, Head of Standards Operations, SWIFT, gave an update on SWIFT's achievements and initiatives in this area. Starting with ISO 20022, he explained that the ISO 20022 standard differs enormously from MTs and that whilst MTs are very bound to the FIN network that carries them, the same does not apply with MX messages, which are very different and for which the same rules do not exist. As a result of this, there are many different versions of the MX messages concurrently in use. This proliferation of versions of ISO 20022 messages is being addressed by the ISO 20022 harmonisation campaign. With over 200 ISO 20022 initiatives in 90 countries underway, 24 market infrastructures (MIs) have already come together to agree on a harmonization charter. "The objective of the charter is to bring about an MT-like discipline in the use of ISO 20022 around the world," said Muir, "and we are happy to have the 24 MIs with us on this journey, helping to make things simpler and leading to more value for money." On the coexistence of MTs and MXs, he stated that SWIFT is not mandating a migration to MX, that MTs still have their place and that the cooperative will continue to support them.
The objective of the charter is to bring about an MT-like discipline in the use of ISO 20022 around the world.
As part of the ISO 20022 harmonisation framework, publication of standards will happen on MyStandards, in a consistent framework. Furthermore, there is a commitment to a release cycle on the same day, as is already the case for the FIN standards release process. This will lead to increased consistency, alignment, transparency, predictability and greater standardization overall. "So far, we are delighted with the response from MIs," said Muir, "and we should be communicating a roadmap sometime around Sibos this year." Moving on to his next topic, that of the current standards releases and the process by which changes are agreed on, Muir explained that there is agreement that the current amount of engagement in reviewing change requests (CRs) leading up to a standards release isn't as good as it could be and leaves room for improvement. In order to address this challenge, a new collaboration platform will be released later this year. On this platform, which will be a free extension of MyStandards, anyone with a swift.com profile will be able to see the CRs for the year, comment, read the comments of others, endorse or disagree. After going over the list of CRs for 2016, showing the items that have been accepted, rejected and giving examples of contentious items, Muir concluded his presentation with a brief overview of the standards initiatives for 2016, which include standards in regulation, in blockchain (including the role of ISO 20022), in real-time payments, and in the gpii.
Towards a community-inspired compliance utility
To speak about SWIFT's solutions for financial crime compliance, was Luc Meurant, SWIFT's Head of Financial Crime Compliance. Meurant kicked off by explaining why investing in financial crime compliance solutions is important to SWIFT. "It is relevant to every single SWIFT member," he stated. "There is no single user that is not impacted. It's a truly universal topic that costs a lot of money but gives no competitive advantage. So there's a lot of duplication for what are universal challenges and there is a huge opportunity to build economies of scale. It's a community issue calling for a universal solution." He went over the main concerns that SWIFT hears from regulators and banks, and the reasons why, in a world in which financial crime is on the increase, where the costs of compliance are becoming prohibitive, complexity is growing, and regulators are becoming more and more demanding, a paradigm shift is needed. A shift that significantly increases efficiency and lowers costs, but not at the price of increased risk. This tipping point for utilities, Meurant said, is also recognised by the regulators, who seem to be open to such an approach.
Compliance is  community issue calling for a universal solution.
After going over the main features, benefits and adoption levels for each of SWIFT's current financial crime compliance solutions – Sanctions Screening, Sanctions Testing, The KYC Registry and Compliance Analytics – he explained that the objective is to build three central utilities that offer a comprehensive service offering for all SWIFT users, both large and small. "Also, we want the systems to talk to each other and learn from each other. By design, we can make sure that they talk to each other," he explained. As he drew his presentation to a close, Meurant gave a brief overview of the three new services that will be launched in 2016. List Management, due to be launched in September, will offer a sanctions list distribution and management service, also allowing banks to manage sanctions, PEP and private lists. Payments Data Quality, an advanced reporting and data analytics service to help financial institutions comply with new international requirements for originator and beneficiary information in payments messages (FATF 16) will also be launched in September. Lastly, in December, SWIFT will launch Name Screening, an online portal for checking individual names against sanctions and PEP lists.
Blockchain – from hype to real-world application
The last session of the day was dedicated to distributed ledger technology, or DLT, as it has come to be known. To demystify the technology, show some current applications, give SWIFT's view on it and explain the challenges that still need to be overcome before we think it can be used widely in our industry, was Damien Vanderveken, from SWIFT's Product Innovation and Labs team. Vanderveken went to explain the differences between a general ledger (GL), which is what we see today throughout the financial industry, and a distributed ledger (DL), which is the technology that lies behind Bitcoin, for example. In a DL, every participant in a service has a copy or can have access to a copy of the ledger supporting this service, which gets updated throughout the day. A DL has no central server. Looking at some of the DL implementations that currently exist, he explained that whilst the use of DL started with Bitcoin payments in cryptocurrency, there has since been a move away from payments due to skepticism about the ability of the technology to support payment transactions in traditional currencies. The DL implentations that we currently see, said Vanderveken, differ from the original blockchain implementation underlying Bitcoin in one or more of the following aspects: support for other currencies, Controlled access (i.e. permissioned ledger), different consensus algorithm and support for other instruments than payments (e.g. smart contracts). Controlled access, for example, removes a costly additional extra layer of security, reduces complexity and increases efficiency.
Looking at the constraints that we currently see, he said that the technology was originally developed for a customer-to-customer or business-to-customer environment, not for business-to-business. In order for it to be made relevant and useful for the financial industry, it will be necessary to institute an admin role and define the rules of the game. Having given a factual assessment of all of the challenges, he said that a lot of effort will have to go into solving them, but that the technology does offer some clear opportunities, such as traceability, information propagation and the potential for application beyond payments. Summarising SWIFT's position, he stated that the technology has a lot of potential, can and probably will have applications in the financial industry but is not yet mature. "Expectations are high but a reality check and maturity are needed," he said, and concluded his presentation by giving a number of examples of DLT activities that are being worked on at SWIFT.
Wrapping it up
In her closing summary, Cristina Rigo told delegates that change is certainly in the air and that the need for collaboration has never been greater, since it is critical mass that makes initiatives succeed. With that, she thanked the speakers and delegates for their participation and contribution and closed the forum. In the afternoon, the event was followed by the AGM of the SWIFT Switzerland National Member and User Group.