Financial crime compliance has risen steadily up the agenda of global industry regulators since 2008. SWIFT is keeping pace accordingly.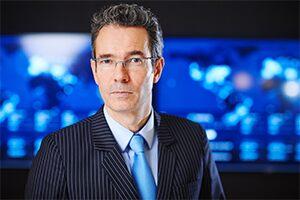 Financial institutions not only need to implement the right controls for sanctions screening and other compliance initiatives, but increasingly need to demonstrate that those controls are running effectively," says Luc Meurant, head of SWIFT's compliance services division. "This is becoming increasingly challenging for banks with competing claims on available resources. Banks are looking for new ways of meeting the required level of effectiveness in their compliance processes in line with their risk appetite and while managing costs with cost pool."
For Meurant, this trend is fostering the emergence of compliance utilities for the industry. "Interestingly," he notes, "we are sensing an increased openness toward utilities from regulators and even encouragement for initiatives that are well framed and operated."
We aim to cover the full scope of requirements and make the various components of our offering interoperable.
As a result, SWIFT is rapidly expanding its compliance services suite. "We started in an area very close to our business – Sanctions Screening – then added other services like The KYC Registry," says Meurant. "Our board and community have asked us to further step up our game and we have received a clear mandate from our community to develop compliance capabilities for the SWIFT ecosystem. Compliance is one of the three pillars of SWIFT's 2020 strategy, and we have a bold roadmap in place to build three interconnected and complementary compliance utilities over the next five years in the areas of Sanctions, Know Your Customer (KYC) and Analytics / Anti-Money Laundering (AML)."
At Sibos 2016, compliance is one of the four conference streams running throughout the week. The stream will provide delegates with insights into the broader context of financial crime compliance, while also providing information on the latest tools, tactics and strategies available to SWIFT community members.
"We're very excited to have Stuart Levey, Chief Legal Officer at HSBC and formerly Under Secretary for Terrorism and Financial Intelligence in the US Department of the Treasury opening the stream today together with our chairman, Yawar Shah," says Meurant. Levey will deliver a keynote address at 10:15. "Throughout the week, we will host debates allowing compliance, operations and commercial executives to compare what compliance means for them as well as sessions about what to expect down the road. We will also facilitate networking opportunities, including the Compliance cocktail on Tuesday at 17:30."
Auditorium sessions
The SWIFT Auditorium sessions meanwhile will outline what SWIFT's compliance offerings can do for the business today and what new solutions the cooperative is developing to help institutions manage their sanctions, KYC and AML compliance activities. Over the course of the week, SWIFT will showcase a range of compliance-related products and services. These will cover the entire transaction lifecycle, from using The KYC Registry and SWIFT's new Name Screening service to decide whether or not to accept a particular business relationship, to screening financial transactions on an ongoing basis with Sanctions Screening and tracking traffic patterns and correspondent risk using Compliance Analytics.
The first compliance auditorium session today at 9:30 will cover SWIFT's new Payments Data Quality service, which enables users to evaluate the overall quality of originator and beneficiary information in SWIFT payment message traffic, in particular in the context of the Financial Action Task Force's (FATF) Recommendation 16 for wire transfers. This afternoon at 16:30, SWIFT's hosted transaction screening model will be discussed, covering hosted screening services and plans to complement Sanctions Screening and Sanctions Testing with a full suite of screening utilities.
What is crucial, says Meurant, is to ensure that every utility – from sanctions to KYC and analytics / AML – targets distinctive needs and segments. "That way, as a community, we really benefit from economies of scale."
One impact of this more comprehensive offering should be a reduction in the cost of due diligence processes. The tools will also be useful for institutions that think they could be vulnerable to de-risking – the termination of correspondent relationships because of (perceived) compliance cost and risk. "The best thing that potentially vulnerable banks can do is demonstrate that they have implemented the expected compliance controls so their counterparties can accurately assess the potential risk of onboarding them as clients," says Meurant. "Due diligence costs can be as much as $50,000 per year for high-risk counterparties, so smaller banks should take any steps possible – such as joining The KYC Registry and using Sanctions Screening to screen transactions – to protect themselves by reducing compliance cost and risk for their counterparties."
SWIFT continues to evolve across the entire compliance portfolio, says Meurant. "Banks' needs continue to change as regulation evolves. We aim to comprehensively address our community's needs and make the various components of our offering interoperable. All of these solutions are driven by the community.
*  This article originally appeared in Monday edition of SWIFT at Sibos magazine. Download your copy of the complete Monday edition  to read the latest news from the conference!