Interview with Javier Pérez Tasso, chief executive Americas and UK region, SWIFT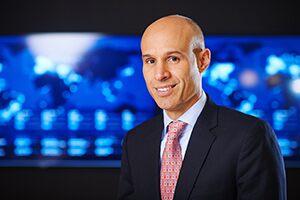 As Sibos Geneva draws to a close, what are the key themes you see crossing the Atlantic to Sibos Toronto?
"I have no doubt that many of the themes the industry has been discussing this week will continue to resonate, particularly the cyber security challenge. The industry faces a persistent threat and as we have heard, this is a long-term challenge. One thing that is clear from all the discussions this week is that the industry and SWIFT are mobilising effectively to take action together – which is very encouraging. And at SWIFT, as part of our dedicated Customer Security Programme, the new industry-wide security requirements and assurance framework that we have just announced, as well as our cyber information sharing and fraud detection tools, will ramp up even further by Toronto. Let's not forget, on cyber, it is a marathon, not a sprint.
Will technology and innovation still be as high on the agenda?
Yes, definitely. While cyber will be high on the agenda, the world does not stand still on innovation, or for that matter on our SWIFT2020 strategy. A good example is SWIFT's gpi initiative which together with the strong foundation provided by the Customer Security Programme and our evolving financial crime compliance portfolio will bring correspondent banking to a new level.
When you refer to technology, FinTech hubs such as London and Silicon Valley are the obvious ones that come to mind. But perhaps less well known is the emergence of FinTech in Toronto, which ranks in the world's top 10 financial centres. The MARS discovery district innovation centre in Toronto is a rapidly growing FinTech hub, and Innotribe and SWIFT Institute are engaging with them as we build towards Sibos Toronto.
As we reflect on Sibos Geneva, this was perhaps the 'coming of age' of blockchain, as the topic moved from the fringes of Innotribe last year in Singapore to the main conference in Geneva. There is a lot more expertise out there on distributed ledger technologies and the key question is 'how' rather than 'if' the technology will be applied, although there are still some hurdles to overcome along the way. But what we are now seeing is ever closer collaboration between banks and new market entrants, playing to the strengths of both. FinTechs have a clear advantage when it comes to technology and innovation. They are not encumbered by legacy systems, and can build from scratch and deploy the latest technologies. But what they don't always have, and where incumbent players have much more of a natural advantage, is the power of distribution and the strength of having thousands or even millions of customers.
Payments modernisation is a theme we hear a lot about in Canada. Can we expect new developments by Sibos 2017?
Change is underway across many countries, and Canada is no exception. Back in 2012, the country committed early to the ISO 20022 standard with the ambition to move to a single standard for all payments, wholesale and retail. That holistic approach has now been taken beyond the standards discussion as the community has embarked on a modernisation initiative for the entire payments clearing and settlement infrastructure, based on global standards to process all payments. So we can expect that this will be very much part of the 2017 agenda. And thinking about SWIFT milestones, in the same timeframe, the new real-time messaging platform for the Australian community will be live and doubtless real-time momentum will continue across global markets.
As delegates save the date for Toronto 2017, why do you think Canada will make such a great location for Sibos?
I have to say, it is a country close to my heart, having spent time studying in Canada, and now I'm travelling there regularly and experiencing first-hand the dynamism and transformation going on in the market. We can certainly expect another great Sibos. It will also be Canada's 150th anniversary next year which promises to make it even more special.

See you there to find out!  Sibos 2017 will take place in Toronto from 16-19 October at MTCC.
* This article originally appeared in Thursday edition of SWIFT at Sibos magazine. Download your copy of the complete Thursday edition to read the latest news from the conference!