15 semi-finalists competed in Cape Town during SWIFT African Regional Conference.
For the 2015 Startup Challenge, Innotribe received close to 370 applications from early-stage and growth-stage startups hailing from all over the world. Over 500 judges assessed these companies on their ability to provide an important innovation in the future of the financial industry and ultimately narrowed the selection process to this year's 60 semi-finalists.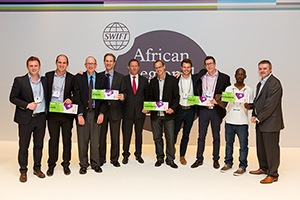 On 6 May, 15 semi-finalists came to Cape Town to pitch their innovative ideas during SWIFT African Regional Conference. Now in its 22nd year, ARC attracts policy makers, industry leaders and the broader financial community from across the African continent - the perfect platform for Innotribe to draw attention to the innovation happening on the ground in Africa.
Read the Press Release to find out which companies were selected in Cape Town to compete during the Startup Challenge Finale. The event will take place during Sibos, on 14 October in Singapore.
All videos related to the event are now available on Innotribe YouTube channel, together with the individual pitches of the competing startups who presented in Cape Town. You can access the full playlist.
The extensive Storify report gives a nice social perspective on the event and a selection of the best pictures is available on our photo library.
After a successful showcase in London, Cape Town was the second regional showcase to be held in 2015 and was sponsored by Wells Fargo and Level39.
Next steps to this year's programme will be the regional showcases in Singapore this Thursday 28 May, and New York on 18 June.
For more information about the Innotribe Startup Challenge, please visit our website.