Helping to make a difference

For each of our EMEA events, SWIFT sponsors a cause within the framework of our Corporate Social Responsibility (CSR) programme. For the SWIFT Business Forum 2016 in Lisbon, we are proud to support SOS Children's Village of Bicesse.
SOS Children's Villages has been working in Portugal since the early 1960s, a time when there was a great need to provide support to children and families. Children who did not have parental care were divided according to age and gender and accommodated in institutions which were totally cut off from the outside world. Over the years, SOS Children's Villages has started working in other areas, supporting children, young people and families from the local community.
The first Portuguese SOS Children's Village was constructed in Bicesse near Estoril at a distance of about 25kms from Lisbon.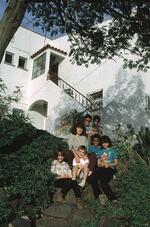 The SOS Children's Village Bicesse consists of family houses, the Village Director's house, a community house, an administrative building and a laundry. A pair of semi-detached houses serves as a Girls' Residence for older girls to prepare them for their independent adult life. The SOS Children's Village Bicesse runs its own SOS Kindergarten. In addition, it offers a SOS Social Centre and a SOS Day Care Centre to the people of the neighborhood. The children from the SOS Children's Village attend public primary and secondary schools in the vicinity. For the young people who obtain education or vocational training in the near capital, a SOS Youth House has been set up in Lisbon.
SWIFT will support the Village of Bicesse with a donation of 3.000€, and will be dedicated to support children through education. This will include access to school, school material, after school support and psycho-social support.
Please visit the website if you or your organisation would like to join SWIFT in supporting SOS Children's Villages.