Registration
Full conference delegate pass (incl. transfers from the airport to the Sofitel Ivoire, a printed conference programme, networking cocktail on Tuesday and gala dinner on Wednesday as well as coffee breaks and luncheons for three days):
€ 950, excl. VAT
Convince your boss to let you attend ARC 2017
Print the online agenda - highlight the sessions which are the most relevant for your business and what you can learn from them
Highlight networking opportunities – look at the profiles of delegates from previous editions of ARC in the ARC 2017 brochure
Share your knowledge – propose to set up a debriefing after the event and share the post event report. Check out last year's report here.
We have also prepared a draft letter that you can use to request the formal approval of your management to attend ARC 2017.
Do not hesitate to contact us if you need any more information or support.
ARC 2017 Venue
Sofitel Abidjan Hotel Ivoire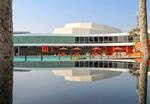 This iconic 5-star hotel, built by Moshe Mayer in 1963 and recently refurbished, overlooks the Ebrie lagoon and the Plateau.
Address: Boulevard Hassan II 08 B 01, Abidjan, Ivory
Stay at the official ARC 2017 Hotel and make the best out of your trip
Room rates:
Classic room: 141 000 CFA = 214, 95 euros, including breakfast and all taxes
Superior room: 156 000 CFA = 237, 82 euros, including breakfast and all taxes
Secure your hotel room at this preferential rate while registering for ARC 2017 online!
A transfer from the airport to the hotel will be provided to all participants staying at the Sofitel Ivoire.
Security at ARC
SWIFT takes the safety of participants at its events very seriously and our Global Security Team (GSC) continuously monitors the security situation at all our event locations. The GSC sees minimal risk for this event. For participants attending the African Regional Conference, we will provide dedicated shuttle services between the airport and the event hotel, the iconic Sofitel Abidjan Hotel Ivoire. The full three days of event will take place at the enclosed venue and gardens of the hotel.
Partner airlines
AIR FRANCE & KLM Global Meetings
Attractive discounts on a wide range of airfares on all Air France and KLM flights worldwide
Use the website of this event or visit www.airfranceklm-globalmeetings.com to:
access the preferential fares granted for this event*
make your booking
and issue your electronic ticket*.
Event: SWIFT African Regional Conference 2017
Event ID: 29860AF 
Valid for travel from 11 May 2017 to 23 May 2017
Event location: Abidjan, Ivory Coast
If you buy your ticket via AIR FRANCE & KLM Global Meetings website, your electronic ticket will carry a special mention which justifies the application of the preferential fares. Should you prefer to process your reservations and ticket-purchase directly with an Air France and KLM sales outlet, you must keep this current document which serves to justify the application of the preferential airfares.
Emirates Airline has proudly been selected as a partner airline for the SWIFT African Regional Conference 2017. 
Emirates has excellent connections to all of the six continents via Dubai with more than 150 current destinations worldwide – and expanding their route network all the time.
Participants can use the Promotion Code to get special fares on Emirates
Book you travel today on www.emirates.com and enter the promotion code EVE6SWF. The promotion is valid for flights from 09 May 2017 to 25 May 2017.