We're currently recruiting for our 2019 global graduates training programme, offering opportunities to discover the exciting world of financial technology in a truly international environment.
The programme 
At SWIFT, we provide financial messaging services to financial institutions and corporations worldwide – it's a fast-moving business with a borderless, future-facing outlook, making for an exciting place to start your career.
Staying ahead in financial technology means continuously developing new skills, knowledge and ideas. Our graduate programme is an important element of our investment in people and we're currently looking for talented individuals to join us.
As a member of the programme, you'd benefit from an intensive, 15-month development plan, giving you a unique opportunity to explore your aptitudes and the career direction that will maximise your potential.
There are graduate opportunities across all our regions: in Asia Pacific, Europe, Middle-east and Africa, and the Americas.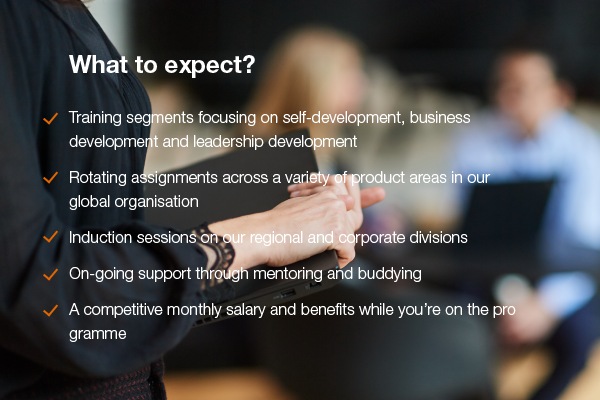 About you
You'll be an academically successful, positive individual and a confident communicator, with excellent written and spoken English.
You've recently graduated (in or after 2017) or will graduate in 2019, with a degree or masters in a technical or business discipline, such as IT, applied mathematics, finance, economics, marketing or business management.
We're looking for an open and analytical approach to problem-solving; you should be ready to explore disparate ideas and approaches to finding business solutions.
Currently we're recruiting for graduate training roles across our marketing division, including product marketing/management/communication; market management/segment strategy; business data intelligence and financial crime compliance.
More about us 
SWIFT is an international co-operative owned by its members - financial institutions and corporations world-wide.
We provide the financial industry with the platform, messaging, standards and products/services to exchange financial messages reliably and securely, and facilitate financial flows, trade and commerce, 24 hours a day, 365 days a year.
More than 2,800+ people work for us, representing 70+ nationalities. They serve over 11,000 customers across 200+ countries and territories from our offices in 25+ countries. Our success depends on technological and business excellence – and on a culture that values diversity, strives for sustainability and fosters a healthy work/life balance.